Dubai, UAE. 17 January 2023.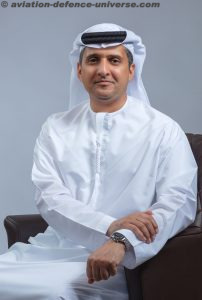 Professional Communication Corporation – Nedaa will showcase its industry-leading solutions and applications at the 24th edition of Intersec 2023, the UAE's premier emergency services, security and safety event. Taking place in Dubai from January 17-19 2023, the event is expected to draw leading security organizations and first responder agencies in the region and beyond.
Nedaa will display its range of advanced solutions along with partners Esharah Etisalat Security Solutions and Airbus. The Nedaa pavilion will feature live demonstrations of state-of-the-art products and applications deployed by these two major corporations which are entirely run on Nedaa's networks. Nedaa has rapidly acquired a reputation for reliability and technology innovation among the various government and private sector entities that currently operate using its 4G network.
One of the highlights this year will be the future-proof COREMOTE Tactics solution which, operating on Nedaa's 4G network, allows user entities to not only manage a mobile field force remotely, but also create and provide situational awareness across multiple (hybrid) critical communication networks. In addition to situational awareness features, the unit features automatic vehicle location management, fleet management as well as a dispatching solution.
Another major attraction will be Esharah's Everbridge Signal, a comprehensive set of Open Source Intelligence (OSINT) tools that offer fool-proof protection for organizations that are critically dependent on fast and secure communications.
Airbus will display an array of its latest communication products run on Nedaa facilities, with its Tactilon Agnet solution occupying pride of place. Showcasing a host of smart features such as Tactilon Agnet Voice Assitant (AVA) and Tactilon Agnet Query, the system offers increased safety and efficiency in mission-critical communications for end-users. Other innovative solutions on display include Internet of Things (IoT) Wearing Vest and TACteam, a tool specifically designed to plan tactical aspects of operations by crisis rooms.
Speaking ahead of the event, Nedaa's Chief Executive Officer H.E. Mansoor Bu Osaiba said: "In an increasingly uncertain world, the importance of public safety and security cannot be overemphasized. We at Nedaa take pride in contributing to this area, and especially in providing reliable, secure and high-performing infrastructure and solutions to organizations tasked with maintaining this safety. When first responders, who operate in critical and high-risk, high-pressure environments, choose Nedaa, we cannot hope for a greater recognition."
H.E. Bu Osaiba added, "Going beyond security matters, in this digital era we are also helping to transition Dubai towards a new era of smart mobility and infrastructure and intelligent living in as smooth a manner as possible. Even as we engage with competitors and prospective customers from across the world at Intersec, we can legitimately claim to have contributed to, and be well aligned with, the vision of the UAE leadership that has made the country one of the world's safest places to live."