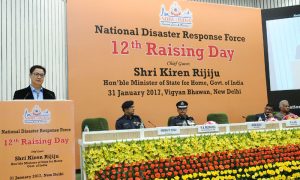 New Delhi. 01 February 2016. 12th Raising Day Celebration of National Disaster Response Force reiterated that commitment to duty is the mantra of the force.
Speaking on the occasion, the Minister of State for Home Affairs Kiren Rijiju said that he salutes the brave hearts who sacrificed their lives in the line of duty. He said that the Government is proud of the work done by the NDRF in the past twelve years.
The Minister appreciated the NDRF for their dedication, determination, professionalism and team work. He said that the force has done commendable work not only in India, but also abroad. Rijiju said that the Force has gained the trust of the people and is helpful for a country, big in size and disaster prone.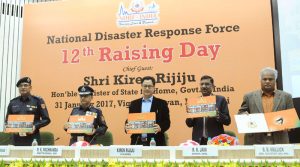 Prime Minister Narendra Modi had unveiled the National Disaster Management Plan last year which has been appreciated by the international agencies/organizations also. A portal on NDRF was launched on the occasion  and it will be helpful in coordination and dissemination of information. The Force also plans  in the direction of promoting soft skills and capacity building at the community level. The Minister also released a pictorial book on the  force.
The DG, NDRF R K Pachnanda said that the NDRF has trained over 47 lakh people on how to deal with disasters and has saved more than 5 million lives so far. He also said that NDRF was among the first to respond during the Nepal earthquake in 2015. He also said that the NDRF was of great help during Kanpur Dehat train accident, Vardah cyclone and other incidents. Member, NDMA R.K. Jain appreciated the NDRF for its great service and said that it is the largest force in the world to handle disasters.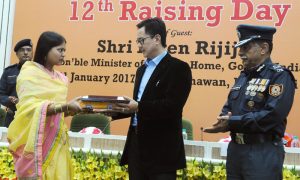 Kiren Rijiju also presented the gallantry and service awards on the occasion. He felicitated the family of the Martyrs by presenting Sarvottam Jeevan Raksha Padak to Nitya Nand Gupta and Uttam Jeevan Raksha Padak to Bhim Singh,  Satish Kumar,  K. Vinaygan,  Bassvaraj Yaragatti, Santosh Kumar Paswan,  Sanjiva Kumar, Pawar Shashi Kant Ramesh and  Ahir Rao Ganesh. Later, he gave away President's Police Medal for Distinguished Service and Police Medal for Meritorious Service.