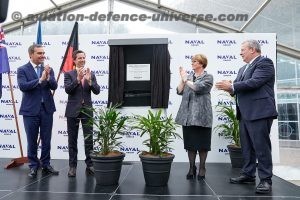 Naval Group's new Port Adelaide base inugurated
Attack Class submarine construction yard
Port Adelaid, Australia. 17 October 2020. The Port Adelaide base was officially opened by the Minister for Defence, Hon. Linda Reynolds in front of more than 200 VIPs and Naval Group Australia staff.
The opening coincided with the launch of Naval Group's first of many major local manufacturing packages for 23 specialised submarine parts in a boost to Australian industry.
Naval Group Australia CEO John Davis said the new facility at Port Adelaide and the Local Manufacturing Package made it a milestone day for Australia and Naval Group.
"The 50-year Attack Class submarine program is already delivering significant benefits to Australia, local industry and local communities," Mr Davis said.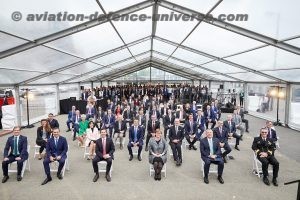 "Today's opening of our Port Adelaide base is a significant milestone as we continue to build our workforce in preparation for the exciting move to the submarine construction yard at Osborne.
"In September we welcomed our 250th employee and this new base is an important part of accommodating our growing workforce.
"Port Adelaide has a strong heritage of waterfront industry and proximity to both Osborne and our Keswick office and is an excellent location for our new base.
"Over the past few weeks many of our staff have made the transition to these new offices and we are looking forward to embedding ourselves into the Port Adelaide community over the course of our 50-year program.
"We want to thank all those who have joined us today to celebrate this milestone event for Naval Group, Australia and the local community."
Naval Group Australia has embarked on an aggressive recruiting campaign with the workforce expected to increase to over 1,700 direct jobs in 2028 with many more indirect jobs being created through the life of the program.
The new office space will be able to host up to 350 employees and provide access to local amenities including a creche, gym, cafes, shopping centre and other local businesses.
Naval Group also today launched its first 'Local Manufacturing Package' Expression of Interest to Australian industry that will see the manufacturing of complex specialised submarine equipment take place in Australia – expected to be worth almost $900 million.