· The new Mode 5 and Mode S identification friend or foe (IFF) systems selected for the Belgian Navy, the Portuguese Navy and the Royal Netherlands Navy are more modern, more secure and generate a real-time picture of the tactical situation.
· The upgrade to the latest NATO IFF standard will enable the Navies to perform military missions with the highest levels of security, dependability and integrity (Mode 5), and better identify civil aircraft (Mode S).
· The platforms will be fully operational from 2020.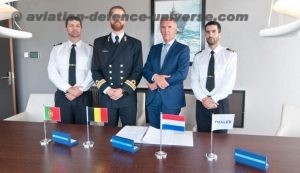 18 October, New Delhi : The Dutch Defence Material Organisation (DMO), alongside the Royal Netherlands Navy, has renewed its confidence in Thales for its new- generation IFF systems. As well as the supply of the identification systems, the contract includes the adjustment of the current LW08 radar systems and the delivery of a user interface for stand-alone control.
Identifying air targets after they have been detected is crucial to the prevention of friendly fire in the theatre of operations. Naval forces today need to be able to rely on new technology to make the right decisions when it matters most. Thales helps them to conduct their missions more safely at every decisive moment. Building on its air surveillance expertise and an in-depth knowledge of operational contexts, Thales has developed high value added end-to-end IFF solutions that comply with NATO standards and meet the requirements of the Dutch defence ministry.
The Netherlands sold two of its eight M-class frigates to Belgium and another two to Portugal. As a result, Belgian and Portuguese requirements were taken into consideration as well as the requirements of the Royal Netherlands Navy. The contract includes an option for three more New Generation Identification Systems (NGIS) for the Vasco Da Gama frigates of the Portuguese Navy.
This contract marks an important milestone in the introduction of new NATO agreements and standards. Mode 5 is the latest military standard and will progressively replace all other modes for NATO members. Mode 5 will be mandatory on NATO-led coalition operations from 2020. The upgrade will also include the civil Mode S to generate a comprehensive Recognised Air and Surface Picture (RASP).
"We leverage the latest technologies to provide naval forces around the world with the means to better identify air targets and enhance tactical preparedness so they can make the right decisions at the right time. The New Generation Identification Systems will include an advanced user interface to support stand-alone control." Gerben Edelijn, CEO, Thales in the Netherlands.