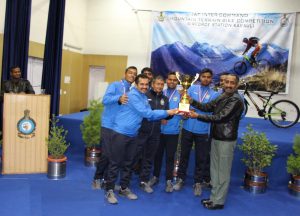 New Delhi. 09 March 2020. Annual Air Force Inter-Command Mountain Terrain Bike (MTB) Competition was organised from 04 – 07 March 2020 at Air Force Station, Kasauli. The event was conducted for selecting the Indian Air Force MTB Expedition team for participating in various competitions at national and international levels apart from promoting the spirit of adventure sports amongst the air warriors. A total of 40 air warriors participated in the championship.
Gp Capt James P Daniel, Station Commander, Air Force Station Kasauli flagged off the expedition which was conducted in two legs of 20 km each on the route Kasauli-Garkhal-Sanawar–Kasauli. The event was witnessed and felicitated by the enthusiastic crowd all along the route.
During the closing ceremony held at the Station, Training Command, Indian Air Force the winner of the event, was handed over the rolling trophy by Station Commander.
Sgt SK Sahoo, LAC J Singh and Cpl Anoop Singh won Gold, Silver and Bronze medals respectively in the individual category of the event.