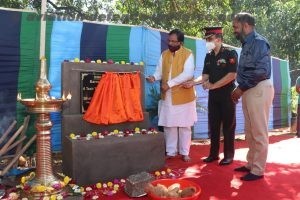 Goa. 25 November 2020. Shripad Naik MOS Defence, Govt of India, visited the Army's Premier training facility at 6 technical training Regiment (2 signal Training Center) at Ponda, Goa recently. During the visit, he reviewed the training and projects under execution in the unit.
Shripad Naik carried out the ground breaking ceremony for revamping of the housing facilities of trainees in presence of brigadier Sanjay Rawal, Commandant 2Signal training Center. He was given a detailed presentation by Colonel Manvendra Nagaich, Commanding officer of 6 Technical Training Regiment about the training methodology adopted by the unit.
He was conducted around the training area and was taken to the upcoming infrastructure sites which are being improved for providing a conducive environment to the trainees who come to the establishment at Ponda, Goa for honing their technical Skills.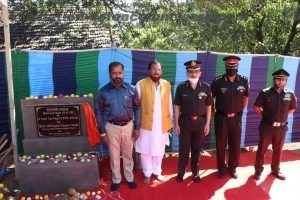 The Minister appreciated the efforts undertaken by 2 Signal Training Center for ensuring goal oriented technical training for cutting edge of the modern battlefield. He exhorted the unit for carrying on with the exemplary work being done in service of Nation and assured the unit of continued support from his office.