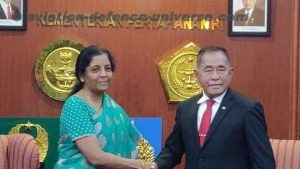 By Suresh Somu
Jakarta. 28 October 2018. India and Indonesia, which celebrate 70 years of bilateral ties next year, are making more regional headways to further enhance a partnership that can positively contribute to global peace and stability.
This was vividly underlined with Indian Prime Minister Narendra Modi and Indonesian President Joko "Jokowi" Widodo met in May at the Merdeka Palace in Jakarta.
It was Modi's first state visit to Indonesia and the two leaders had a tête-à-tête, before holding a bilateral meeting, during which they discussed their countries' strategic partnership, including economic and defense matters.
Speaking during the opening of the bilateral meeting, Jokowi said Modi's visit was very timely, as it came at a time of many uncertainties in the world.
"It is the time for us to have a comprehensive strategic partnership [characterised] by concrete cooperation," Jokowi told The Jakarta Post. "Such cooperation can be realized only by improving engagement, including at the leaders' level."
After the meeting at the Merdeka Palace, Jokowi and Modi departed for the National Monument complex to inaugurate a kite festival organized jointly by Jakarta's Museum Layang-Layang and the Ahmedabad Kite Museum.
VOLUME OF TRADE
Significantly, the volume of trade between Indonesia and India increased 28.7 per cent in 2017. Indonesian exports amounted to US$14.08 billion, including from palm oil and coal, while imports were valued at $4.05 billion.
On 25 October 2018, the Bilateral Defence Minister's Dialogue between India and Indonesia also successfully concluded in Jakarta. The meeting was held between Indian Defence Minister Nirmala Sitharaman who was on a two-day visit and met her Indonesian counterpart Gen (Retd) Ryamizard Rycudu.
This came after a further enhancement after both the countries have upgraded their bilateral relationship to a Comprehensive Strategic Partnership and have recently concluded a new Defence Cooperation Agreement in May 2018.
The Minister reiterated the sustained and mutually beneficial interactions between India and Indonesia as maritime neighbours with a tradition of close political dialogue, economic and trade linkages as well as cultural and people to people interactions between the two nations.
Conveying satisfaction on the military to military interactions, Minister Sitharaman noted that the commencement of bilateral Naval and Air Force exercises as well as the regular conduct of Staff Talks between the three Services sets a strong foundation for bilateral defence cooperation between the Armed Forces of the two countries.
In line with the elevation of relationship between the two countries to a Comprehensive Strategic Partnership, the two sides discussed areas of enhancing cooperation, including strengthening maritime and coastal security, through improved information sharing and conduct of specialised training courses. India welcomed Indonesia's support for the proposal to partner in the Malacca Straits Patrol.
Potential areas of cooperation in the field of defence industries and defence R&D were also identified between the two countries. Both the Ministers also agreed to set up Working Groups to progress the mutually agreed areas of bilateral defence engagements and desired that these Working Groups meet at the earliest opportunity in India.
They agreed to further enhance mutual trust through regular meetings and staff talks between their armies, navies and air forces. They also directed officials to expand mutually beneficial collaboration between their defence industries, including for joint production of equipment.