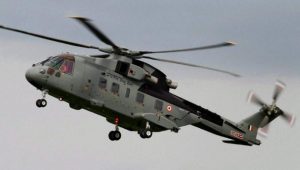 New Delhi. 28 April 2016.  Publicly available information on the procurement of Agusta Westland helicopters clearly shows that the core issue in the matter is corruption. The present Government has taken effective action to bring out the truth and will leave no stone unturned in pursuing all means to bring to justice the corrupt and the wrong-doers in this case. The time taken is largely because some of the key perpetrators of this misdeed are outside the country.
In certain quarters, questions have been raised on certain trivial technicalities, which appear to be intended to distract attention from the core issue of corruption. Some of the facts are being highlighted here to put the issue in correct perspective.
The contract for supply of 12 helicopters signed with AWIL on 8th February 2010 was terminated with effect from 1st January 2014. The main reason was breach of the provisions of the Pre-Contract Integrity Pact and breach of terms of contract by AWIL. However, the company was not debarred by the said order. Various bonds and bank guarantees were invoked.
It is the present Government which through its order dated 03 July 2014, put on hold all procurement / acquisition cases in the pipeline of six companies figuring in the FIR registered by the CBI, namely: M/s Agusta Westland International Ltd., UK, M/s Finmeccanica, Italy and its group of companies, including subsidiaries and affiliates, M/s IDS, Tunisia, M/s Infotech Design System (IDS), Mauritius, M/s IDS Infotech Ltd., Mohali and M/s Aeromatrix Info Solution Pvt. Ltd., Chandigarh. No new capital procurement has been made thereafter from these companies in the tenure of the present Government.
A mention has been made regarding clearance of a joint venture involving Agusta Westland by the Foreign Investment Promotion Board. This proposal was approved on 2nd September 2011 based on an application by Indian Rotorcraft Ltd., a joint venture of Tata Sons with Agusta Westland NV, Netherlands. This was later changed to Agusta Westland S.p.A, Italy due to re-organisation within the group. On 07 February 2012, an industrial licence for the manufacture of helicopters was granted by the Department of Industrial Policy and Promotion to Indian Rotorcraft Ltd. However, the validity of the licence has since expired.
On the core issue of corruption, the two concerned agencies, namely CBI and Enforcement Directorate are vigorously pursuing all aspects of the investigation, including the arrests and/or extradition of three foreign nationals, namely, Carlo Gerosa,  Guido Haschke Ralph and  Christian Michel James. Red Corner Notices were issued in December 2015 and January 2016 through Interpol under Prevention of Money Laundering Act and Prevention of Corruption Act. Extradition request has also been made for  Christian Michel James. One of the agencies (Enforcement Directorate) has arrested an Indian national and attached approximately Rs. 11 crore of property belonging to Indian nationals and to  Christian Michel James.