By Sangeeta Saxena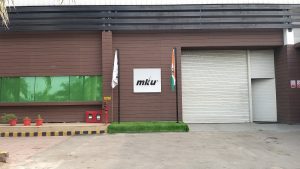 Kanpur/New Delhi. 12 January 2020. For a state in the hinterland of India which despite of having given half a dozen Prime ministers to the nation, has since its inception been synonymous with politics, crime and underdevelopment, has suddenly found new buzz words- defence production, defence industry and defense corridor. Uttar Pradesh of today has three defence corridors coming up, one each in Agra-Aligarh, Jhansi-Chitrakoot  and Lucknow-Kanpur.
And a role model for all the industries trying to find their foot hold in the defence ecosystem of the state, is MKU which has its manufacturing facilities in Kanpur and Fatehpur districts and has a strong footprint both nationally and internationally.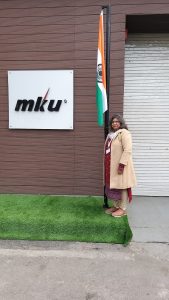 It was an experience to visit the MKU facilities after a gap of two years and to see the advancement in both quality and quantity of manufacturing being done for the security forces globally and it is a one stop shop as all facilities from start to finish are available in-house. This Kanpur based MSME supplies to more than 230 forces in 100 countries and is an Indian multinational in the true sense.
MKU is a manufacturer and supplier of comprehensive ballistic protection solutions both for personnel as well as platforms. and electro-optic devices like Night Vision Devices and Day Optics. It has developed more than 1000 protection solutions for more than 100 threats and has provided protection to over millions of soldiers globally. It has designed and delivered light weight armouring solutions for more than 2000 land, air and naval platforms.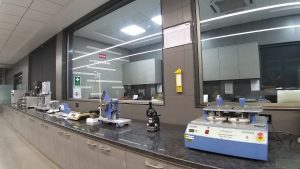 MKU's infrastructure spans across 2 units in India and 1 in Germany. Units 1 & 2 are located at Malwan & Rooma near Kanpur. Unit 3 is located at Sittensen in Germany. It has its own Ballistic Lab located at its facility in Germany which conforms to testing standards laid down by various world renowned bodies. It is a technologically driven company and invests almost 10% in R&D.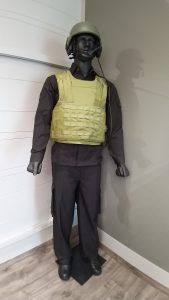 It is a registered NATO supplier and has certified quality management systems conforming to ISO 9001-2008 and AS- 9100-2009. It follows the NATO AQAP standards and is a registered with IAQG (International Aerospace Quality Group).
Total operating income(TOI) of the company has improved from Rs 177.55 Cr in FY18 to Rs 242.98 Cr in FY19 and PAT has improved from Rs 7.43 Cr in FY18 to Rs 27.88 Cr in FY19. It had achieved a turnover of Rs. 143.53 Crores till Aug, 2019 and an order book position of Rs 143.53 Cr as on 30 Sep,2019.
Net profit margin of the company has improved from 4.19% in FY18 to 11.48% in FY19 and Operating profit margin has improved from 8.51% in FY18 to 19.16% in FY19.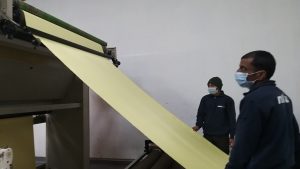 Traversing a bumpy road M Kumar Udyog has come a long way since it began to serve the Indian defence forces in 1985. Founded by GK Gupta to manufacture and supply fibre glass helmets to the Indian Armed Forces, it started manufacturing body armour in the year 2000. As the years passed the small town manufacturer understood global needs and started developing and manufacturing advanced light weight armour in India.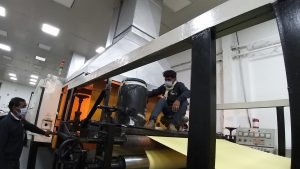 Today it has the installed capacity to make 200,000 helmets , 150,000 body armour, 300,000 armour inserts, 2,000 up armour kits and 15,000 night vision devices, per annum. Already provided protection to over 2 million soldiers and 2000+ platforms across the world, MKU has now over the last five years also become a partner in fulfilling quite a lot of needs of the Indian Army.
MKU diversified into Electro Optics in the year 2012 and acquired the entire technology to indigenously manufacture night vision and thermal devices in India.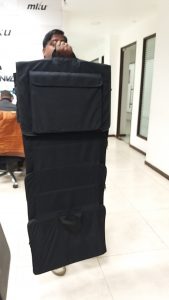 Another interesting and innovative product of MKU is the Ballistic Briefcase which looks like and can be carried as a briefcase, but can be opened up to work like a ballistic shield for the person carrying it. It provides full frontal protection and can also serve as a shield while in a transit vehicle or on foot in public and is designed keeping VVIP security in mind.
Another ingenious offering is the ballistic blanket which are manufactured from high strength ballistic material to provide a wide range of applications, including shielding applications and during mine clearance. These blankets can also be used as a temporary barrier on vehicle windows and as a shield during barricades. Explosives stored near explosion prone areas can also be protected with these blankets.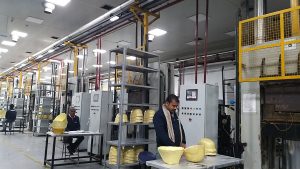 Another feather in its cap is EIS Electronics India which is a joint venture with EIS GmbH. It manufactures special electrical cable harnesses for aerospace applications which are used on various aircraft systems, helicopters and numerous other defence systems. Its harnesses are used by most Airbus aircraft's.
The story of this Indian brand is long but definitely needs to be told. Our series on this indigenisation drive with make in India mantra by MKU will continue.