New Delhi. 18 September 2020. If there is a densely populated and a well funded defence market, it definitely is the Middle East . Not only are military expenditures in the region high but also the defence funding in the region per capita is more than that of any other geographical region worldwide. International defence companies have all set their shops in the region as defence expenditure is on a decline in the western countries.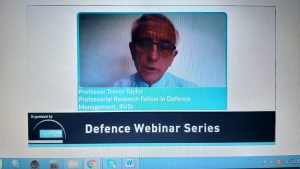 Recently a webinar was organised to discuss Middle East defence and security challenges. The participants were Pieter Wezeman, Senior Researcher of Arms and Military Expenditure Programme, SIPRI, Prof Trevor Taylor, Professorial Research Fellow, RUSI, Dr. Fahad Al Yafei, President – Platforms & Systems, EDGE and Baharain Centre for Strategic International & Energy Studies, Derasat Executive Director, Dr. Katadah Zaman. Trevor Taylor moderated the session. And there are a number of factors that have been added to have an impact on the development development of our defense industry. Not only in the Middle East but, but specifically in the room.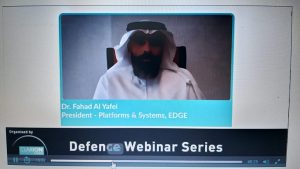 Dr. Fahad Al Yafei, President – Platforms & Systems, EDGE elaborated that there are a number of factors that have been added to have an impact on the development of defense industry. It's not limited to conflict or instability. It currently has dependence on imports, their reach, bureaucracy, as well as national infrastructure and ability to invest in advanced technology. "There is a movement to align our national policies, which is essential in developing a successful new local defensiveness. Here are the way we have a streamlined approach and is developing a national ecosystem. Inter-connected elements that are aligned with the vision to interfere UAE, sending in 2071, which is when our aspiration of having the first manned mission to the moon and, you know, going hand in hand with the fourth industrial revolution strategy among others," he added.
Baharain Centre for Strategic International & Energy Studies, Derasat Executive Director, Dr. Katadah Zaman explained that the development of any military industry in any country is considered a strategic decision that involves another and this is related to the state's economic strength and the ability to defend the security, exercise deterrence against threats. Moreover, in the case of the Arab states, Arab Gulf states, which are considered small oil, which they realize that there is an imbalance in the regional power. These regional factors explain the tendency of the Gulf States to strengthen the military industries. Further asymmetric Corps, which groups the militia, non state actors, have become the biggest threat to the security of the Arab Gulf States. These militias employ drones.
He felt that policy makers to receive the development of military industries as a viable option for economic diversification, especially in that such an industry would be linked to major companies and the sector should provide local jobs, which contribute to enhancing the, the national income of Arab Gulf states. There are two schools of thought. One in which R&D stems and starts as a military development. And then it has a spillover effect into commercial industries. And the other of civilian commercial technologies that are becoming or evolving immediately into defense technologies. "Hence, we have a hybrid model where you will use technologies. It allows you to tap into a larger technology base that is free of international controls. And export controls allow a larger segment of, you know, this entrepreneur, small SMEs to be part of your dividend. So definitely, we see that dual use technology is extremely important," he said.
Ellaborating on the way Edge functions Dr. Yafei said, "Historically, in our short journey, in this defense industries, with done pretty much everything, you've done, licensed production, we've done a little maintenance, But with the creation of Edge, we aim to redefine advanced technology synergies. We want to create innovative opportunities and bring greater agility to adapt to change. We are fostering strategic partnerships. This is a key pillar for each operation or model for customers, vendors, and countries.In order to help us to secure nation with a wide spectrum of disruptive products and services at world-class standards, we are also focused on outcomes, and open to work with partners. Big or small startups are established, local, or global. for the wider benefit of our customers who remain scores will remain as our core priority.We have already established strong relationships with international defense contractors and building partnerships with markets all over the world. We do have, let us say, three main types of partners. We have the general vendors that sell products. These are valued transactional relationships. Then, you have commercial partners that also have problems, but go further, helping with IP, accelerate our own sovereign capability and key technology stacks. Then, we have the strategic partners that not only send products, but also transfer IP invited technology stacks. "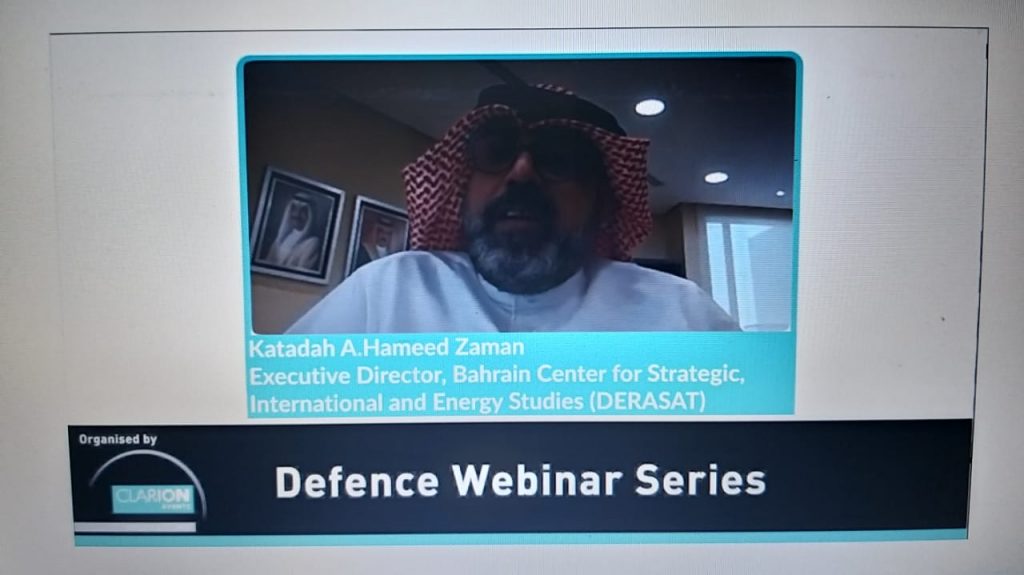 Dr. Zaman explained, " the arms sales from major countries to the Middle East, or two other regions of the world, are related to several considerations, This includes existing partnerships between the countries, such as security agreements, This is why, western countries, in general than the United States, in particular, one of the largest share of global arms sales. The second issue is the nature of the weapons themselves. Some of the weapons in the advanced systems, such, as such, they require constant servicing and maintenance, that's stipulated within these defense contracts. These advanced weapons need to be proportionate in order to respond to the current security threat. The most important thing is that we must be realistic in our assessment. But here, we live in a turbulent world. There are attempts by major powers to reshape the international system. The most notable include China and Russia, Nevertheless, the reality is that western companies are the biggest player from the Middle East, the ottomans market, At the same time there is a there are situations where it is possible to deal with this. Global trends were disagreements between major powers, are coming to the forefront,"he said.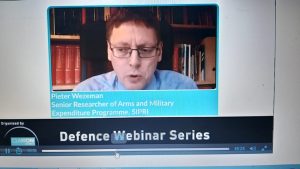 Pieter Wezeman from SIPRI expanded, " Obviously, companies will also will always seek more markets even though the national demand and Saudi Arabia and also in the UAE is very substantial, But then again, it's for example. So in France or in the UK, and also that we see that the export of bombs and military technology is very important to be able to sustain a defense industry in an economically viable way. And then, of course, the question is, how are you going to do that? What will be your main clients there? Yes, you could think about specific countries in the region itself, which may be interested in some of the equipment that could be produced. But maybe it will also elders a bit further away. There might be very good relations, which can, with countries such as Pakistan think, for example, about the fact that Turkey has found in Pakistan, a very interesting market for its latest military products. Even though we just find some obstacles there. because, and this is always to be taken into account to ever you want to supply. As long as the items that you want to supply still contain technology from the US or from Europe, you will have to take into account that those countries, those original supplies of the technology may put certain restrictions on your exports. So you may find out, it's more difficult to export, to, let's say, Pakistan than you had expected, or maybe Sudan, on which there is both in the US and within Europe and arms embargo. So some states are important. But I think it's also very important to take into account that some of the real kind of export will not be the complete system itself. But it will be about that co-operation in the prediction of items that will be used in Europe and the US, but also in Saudi Arabia, or UAE, or other countries, within the Gulf Red region, that pursue a defense industry. So, the production of components that will be part of more or less co-operative programs might be the really big gain for the defense industry in the region."
Not the specific export markets in Africa and elsewhere for complete products, but the components, the, the, the bits, and pieces, which you produce yourself as part of, let's say, a global program for the production of new combat aircraft, or vehicle, et cetera. In the same way as that has been for a country like Japan, their main defense exports, not the complete product, but all those components, which they supply to the companies in the US, In particular, which produce the final major equipment that is being used by Japan and the US.
Dr. Yafei stated, " And we have an interest in increasing our exports capabilities through more meaningful and longer term partnerships at Edge. We are re-imagining capabilities through the opportunities presented by technology redefining cross collaboration synergies. Across our entities to create optimize benefits through interoperability, technologies and definitely with greater agility. Definitely, we cannot comment on our full range of cutting edge products. We count our national armed forces, law enforcement agencies, and hide them admitted to the companies from around the world as our key customers. They can see the Edge as their supplier of choice as a result of our ability to develop a giant, bold and disruptive solutions at rapid speed, as well as our transparency in all transactions. Moreover, we are also offering products that can be customized at the customer's premises. So we do not need to be involved in the, let's say the last mile of no fine and customization that the customer wants to do in order to keep his own."
"The goal of any country involved in defense industry, is focused on manufacturing and marketing of their products. This also depends on many factors, including the quality of the weapons, the market suitable for them and the ability of the state to enter these markets. This includes the ability to enter markets that are traditionally serviced by the more established international defense contractor. The international companies invest heavily in auditing, This allows them to continuously develop their products and learn with the security needs of the country, such as drones, the reality. The reality definitely poses additional challenges when it comes to the newer Gulf Defense companies attempting to enter these markets, in addition to the local industries," said DrZaman.
"Of course, it's too soon to tell in a way. But on the other hand, we do know that, as you say, credits, loans, special agreements, are all part of the package is that the established arms produces defense industries in the US, and Europe, but also in Russia, all have developed over time. And, of course, this is something which the defense industries in the Gulf region will also have to consider. And also, in this regard, again, as I said before, any export of military technology is not just an economic activity, but is generally also part of a foreign policy. And, also, the other states have to consider, what is it they want to achieve, is, to which extent, are they willing to supply weapons, to allies for, let's say, friendship prices, or special credit arrangements that is going to be very important part, and it will be very interesting to see how countries in the Gulf region are developing these," he added.
He added, "however, maybe it's important that to add that one of the things that countries in the regions have not achieved, whereas they have achieved already a very rapid development of their defense industries. I think what hasn't been really managed yet, is that oversight, the transparency that you see in the, let's say, the European and US, defense industry, where we know much more about how they do business, what their revenue levels are, with whom they do, business, but also, to which extent, they are willing to engage in these kinds of special financing schemes with potential customers. We're bringing together these 25 different entities and forming them into a coherent whole where most of these 25 companies were either semi owned, or fully owned by the government. So it added up an element of ease to consolidate. When we started the process of consolidation, we've consolidated them under a different clusters. We've ensured that the synergy of business is maintained within the class. As an example, landforms cluster had grouped under the company's network, operations, in the land, sea, and air platforms. So there is an element of commonality between them."
Dr. Yafei added, "I think one of the things which people close to Defense procurement well understand is the difficulty that potential customers face when companies come along and offer technologies and goods that they explain will do all kinds of things, but they don't necessarily tell you everything about what it will cost for the technology or what the risks are. I do think that having a defense industrial capability of their own will help Middle East customers to be more intelligent and thoughtful customers when it comes to buying things from other people. And on the fact that the defense industries from foreign countries have gone into very aggressive marketing, embracing a blinded, the relatively small groups of decision makers in Middle Eastern countries and that, therefore, weapons have been acquired and military equipment have been acquired, which was simply not Lean and mean you could say. And I think, yes, it does make a difference, if you are able to develop your own defense industry, to understand what the industry does, to develop your own national technology base to not only bringing the technology from abroad, but especially also develop your own population. "
"Having said that, of course, still, such a group in itself, can also become an interest group group, which itself, once, as a local defense industry, to influence the decision making, in the government themselves. So, even though it helps the government is to help the decision makers with technical expertise, they should be wary that these technical expertise is they're not kind of turned against them from the inside. So, it is important to build up the proper accountability, oversight, transparency, mechanisms that should contribute to wise decisions about procurement, about military technology development, and how this might play a role in the true security policy of every state. And this is also very much true in a Gulf States. UAE's positions very well as a very balanced country politically. We exhibit great relationship with pretty much the whole, the whole words, and this really helps. We go by the book. We go by a process. So we did, we do have the proper governance. Not just at the stage of edge with all the different government entities, whether, it's the Ministry of Foreign Affairs with, it's the Ministry of Defense. They all have very clear guidelines. And once you go by the guidelines, these are your smooth, any transact transition of transactions that you you with different OEMs and part being a signatory of multiple international diesels. This allows you to have a very healthy dialog, whether it is in the platform acquisitions or technology stacks, acquisition. Yes, it might take some time, but definitely, there is always, the doors are always open to pursue this," he ended.