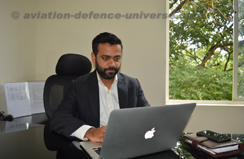 Bangalore. 25 August 2017. With India's vision to become the third-largest aviation market by 2020 and the largest by 2030.India is planning to invest over $120 billion in the development of airport infrastructure and aviation navigation services over the next decade with the civil aviation sector poised for fast growth, the sector is poised for a faster and sustainable growth with the development of more than 50 new airports and expansion of existing airports, giving job opportunities to millions. India registered a growth of 14 percent in civil aviation sector during the last decade.
With foreign direct investment (FDI) in air transport during the last decade touched the mark of $570 million. The Country continues to be a favorite destination for foreign investors in civil aviation sector. It has been noted that the Indian civil aviation market is growing at a rapid pace and now ranks ninth in the world.
Keeping this in mind we at TraiCon researched and developed the Airport Modernization Summit 2017 which we just successfully concluded on the 24th August at the Sterlings Mac Hotel in Bangalore, India.
The event featured an array of presentations from leading experts from across the Indian Aviation Sector which was a great learning experience for the entire delegation which comprised of over 200 attendees.
The objective of the event was to develop a program that would help modernize the entire Indian Aviation Sector and was indeed the first of its kind. This two day summit covered topics related to government policies, regulations development of new airports, modernizing the existing infrastructure, implementation of smart airport technology and how to create a sustainable business model. Many questions were raised and answered by our panel of experts and we will in fact be soon creating a forum where the aviation sector can share their views, express their opinions and get answers to their queries from the relevant experts and government authorities.
We will indeed be hosting the second edition of the Airport Modernization Summit in the first quarter of 2018 and look forward to having the entire Indian Aviation Sector Support and Actively Participate in this initiative.