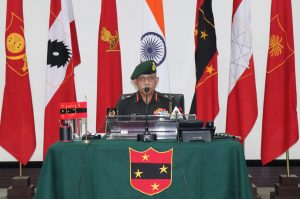 Pune. 23 January 2021. On the Birth Anniversary of Netaji Subhash Chandra Bose, the founding father of the "Azaad Hind Fauj" or the "Indian National Army", Lieutenant General CP Mohanty, General Officer Commanding-in-Chief, Southern Command held a media interaction and gave out his views on various defence and security related issues primarily relating to Southern Command of the Indian Army, with its area of responsibility spread across 11 States and four Union Territories.
The General Officer assured that the Southern Command is operationally geared up to face any security challenge and fulfill its assigned mandate. He added that Indian Army is continuously analyzing the emerging threats and technologies to ensure that it is a future ready force by remaining ahead in the decision & technology loop. In doing so the Army is focused towards the national initiative of "Atmanirbhar Bharat".
Speaking about synergy between the three Services, the Army Commander said that Southern Command is taking progressive steps to increase integration between the three services with the ultimate aim of creating Joint Theater Commands, and is working towards having a collaborative partnership with all agencies involved in the security of the Nation. The Army Commander recently reviewed an important ongoing Tri Services Exercise and expressed his happiness at the high level of integration achieved by the troops.
With regards to the role played by Southern Command in Nation building activities the General Officer said that Southern Command remained committed to remain at the forefront to render assistance as per the National policy to mitigate various challenges presented by not only the COVID-19 pandemic but also other natural or manmade calamities. Lieutenant General CP Mohanty extended his sincere appreciation to all the COVID warriors for their outstanding contribution during these difficult times and said that the Army has an excellent coordination and cooperation with the civil administration and police of each state & Maharashtra in specific for implementing various population control measures during the pandemic, and while undertaking various Humanitarian Aid & Disaster Relief activities.
The Army Commander also apprised the audience about the recently inaugurated building of the Command Hospital, which is a state of the art Multi-Specialty Tertiary Care Hospital at Pune for serving soldiers and veterans. He took the opportunity to also sound the media personnel about the forthcoming inauguration of the renovated National War Memorial and Museum at Pune. He said that the renovation has been done to increase the level of awareness about the Armed Forces amongst the people, and inspire the youth to join the armed forces.
While concluding, Lieutenant General CP Mohanty assured everyone that the Indian Army will continue to live up to the expectations of our countrymen and will remain committed to maintaining the sovereignty and territorial integrity of the Nation at all times. He also thanked all the media fraternity for being partners in articulating the talent and contributions of the Army, and Southern Command in particular, to the citizens of our country.