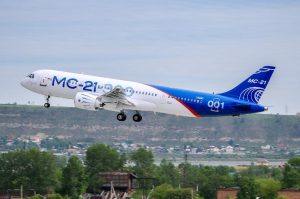 Moscow. 28 May 2017. MC-21-300, a new generation passenger airliner made its first flight. Flight duration was 30 min, altitude – 1000 m at a speed 300 km per hour. Rostec Corporation is the integrator of the aircraft multiple systems.
"The first МС-21 flight is one of the key points the Russian civil aircraft industry reached in the 21st century. Rostec's holding companies United Engine Corporation, Concern Radio-Electronic Technologies, Technodinamika as well as the holding company "RT-Chemcomposite" took a very active part in development and manufacture of most of the airliner components, from engines and composites to hydraulic, fuel and control systems," commented Sergey Chemezov, CEO of Rostec.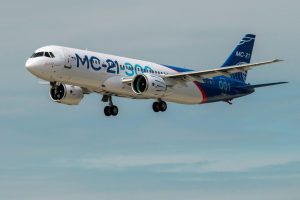 "We are the first and currently the largest client for МС-21 airliners, we signed a firm contract for 85 airliners. Our subsidiary Avia Capital Services has already signed an agreement to purchase a batch of 50 МС-21 airliners for Aeroflot. Besides, we are highly positive about the potential of the new aircraft export, first of all, to the dynamically developing aviation markets such as the South East Asia, Latin America, India, the Middle East. Rostec has a long and successful history of operation in these markets both in the framework of military and technical cooperation and within the scope of civilian projects, so we are ready to render full support to United Aircraft Corporation in international promotion of МС-21," he added.
Rostec's companies also manufacture the tail assembly compound aviation elements. It is the polymer composite fin box and stabilizer detail manufacturing technologies that will make the airliner competitive. Their essential feature is large-scale process automatization. The share of composite details in the aircraft structure will be in the range of 30% to 40%. Besides, Rostec companies fully cover the titanium demand of the МС-21 program, supply components (chassis), avionics and airborne electronics.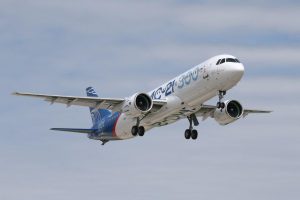 One of the key products on offer for МС-21 is the PD-14 bypass turbojet engine, the first 100% Russian power unit created in Russia in recent decades. PD-14 flight testing was also conducted at the end of May this year. The airliner is intended for the biggest air transportation market segment, its capacity is 163 – 211 seats.
The estimated reduction of direct operating costs during МС-21 operation compared to counterparts will amount to 12-15% said the company. The initial firm order portfolio for 175 МС-21 airliners ensures production capacity utilization in the coming years. Advance payments have been received under the firm orders.
The airliner was piloted by Oleg Kononenko, pilot in command, test pilot, Hero of Russia and Roman Taskaev, pilot, Hero of Russia. Oleg Kononenko stated: "The flight mission was fulfilled in full scope." Roman Taskaev commented that "operation of all aircraft systems was failure-free".