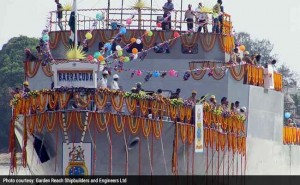 Vishakhapatnam. 05 February, 2016. Despite of just one ship of the island nation at IFR, Mauritius is attracting a lot of attention at the International Fleet Review 2016. And all this is courtesy one tradition being followed since 1974. The national Coast guard has since then been commanded by an officer of the Indian Navy on deputation.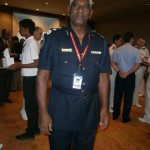 Commissioner of Police Karl Mario Nobin is also the Chief of the Naval Staff as the defence forces come under the police in Mauritius. speaking exclusively with ADU he informed that the ship was commanded by another Indian navy officer and was anchored here with  a crew of 68. Cdr Rajneesh Kumar Dalal, Commanding Officer of the docked in Vizag Mauritius Coast Guard Ship Barracuda MCGS Barracuda is his third Sea Command. Prior taking up the command of MCGS Barracuda, the Officer was serving as 'Training Commander' at INS Dronacharya for Gunnery and Missile Training from where he was deputed to the Government of Mauritius as Commanding Officer for MCGS Barracuda in Sep 2014. OK Guness, Assistant Superintendent of Police is the Executive Officer on board. This shows the synergy between the armed forces and police forces in Mauritius.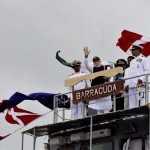 Cdr Rajneesh Kumar Dalal  informed that the Mauritius Coastguard Ship (MCGS) Barracuda is a multi-mission capable Offshore Patrol Vessel operated by the National Coast Guard of Mauritius."The ship has been constructed by Garden Reach Shipbuilders and Engineers, Kolkata, India and was jointly commissioned by the Prime Ministers of Mauritius and India, at Port Louis, on 12 Mar 2015," he said. It is the first warship to be exported by an Indian shipyard.
MCGS Barracuda is fitted with a 20 mm CRN-91 Gun (controlled by a stabilised Optronic Pedestal), Heavy Machine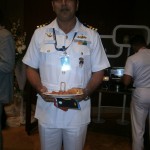 Guns and Medium Machine Guns making it fully capable of undertaking missions against Illegal Fishing, Smuggling, Piracy and carrying out EEZ Surveillance. The ship provides Mauritius, a major capability towards protecting and supporting its outer island territories, located 600 nm away from the main land. MCGS Barracuda is capable of transporting 50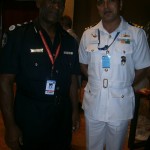 tons of dry cargo and 25 tons of frozen cargo, in the designed Cargo Holds with assistance of onboard Crane Arrangements. In addition to the EEZ surveillance, ship undertakes SAR missions in the region, for which she carries one light helicopter, one Landing Craft for Vehicle and Personnel and one RHIB. MCGS Barracuda has been equipped with Pollution Response Gear to deal with any environmental contingencies at sea and External Fire Fighting Arrangements to assist other vessels in distress. MCGS Barracuda is an ideal platform for providing logistics support and undertaking HADR, anti-piracy, IUU and anti-smuggling missions.
Saurabh Thakur, Captain(IN), Commandant National Coast Guard, Mauritius is also attending the IFR.