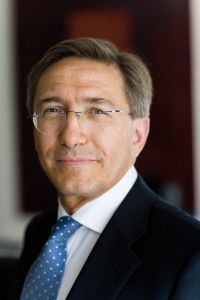 Paris.
 The board of directors of Thales, on the proposal of the Public sector, co-opted Martin Vial, Commissioner of State Holdings, on
1
7th September, as a board member representing the French State, succeeding Régis Turrini. The mandate of Martin Vial runs until the end of the Annual General Meeting called to approve the 20
1
5 financial statements.
Martin Vial also joins the strategic committee and the governance and remuneration committee of the board, replacing Régis Turrini.
After beginning his career as administrator of Post Offices and Telecommunications in the Financial Office of the French postal service (Direction Générale des Postes), Martin Vial joined the Treasury Department at the Ministry of the Economy and Finance in
1
986, where he was responsible for overseeing banking activities and stock flotations.
In
1
988 he was appointed technical advisor and later deputy director of the Office of the Minister for Post Offices, Telecommunications and Space, where he was responsible for the institutional reform of the postal service and France Télé
com
. From
1
99
1
to
1
993, he was successively deputy director and then director of the Office of the Minister of Infrastructure, Housing, Transport and Space, before going on to become director of the Office of the Minister for Post Offices and Telecommunications.
In
1
993, Martin Vial was appointed chairman and managing director of the airline Aéropostale, a joint subsidiary of Air France, La Poste and TAT. In
1
996 he was elected chairman of the CSTA (French air transport association) and of the FNAM (National Federation of Commercial Aviation).
In late
1
997, he became managing director of the La Poste Group before taking up the chairmanship in December 2000. At the same time he was a member of the Supervisory Board (
1
998) then vice chairman (2002) of the National Welfare Fund (CNP).
From
1
999 to 2004, he was also a member of the Economic and Social Council and a member of the Strategic Council on Information Technologies under the authority of the Prime Minister. In September 2002, Martin Vial joined the Cour des Comptes as counsel. From 2003 to 20
1
4, he served as CEO of Europ Assistance, the world leader in care services with 44 subsidiaries in 33 countries, and CEO of Europ Assistance Holding.