Originating about 300 years ago in the year 1750, Madras Regiment is the oldest regiment in the Indian Army. This brave platoon of soldiers took part in operations with both the British Indian Army and post-independence Indian Army and brought laurels to the regiment and country.
Active: 1758–present
Role Type: Line Infantry
Military Role: Infantry
Battalion Size: 21 battalions
Battle cry: "Veera Madrassi, Adi Kollu, Adi Kollu" which means Brave Madrassi, Strike and Kill, Strike and Kill!
Regimental Centre: Wellington, Tamil Nadu
Regimental Insignia: An Assaye Elephant posed upon a shield with two crossed swords, which was awarded to them in the Assaye Battle, symbolizing their fierce fighting skills.
Motto: "Swadharme Nidhanam Shreyaha, (glory to die while doing one's duty)
Regimental Language: Tamil and now even Malayalee
History of Madras Regiment
The Madras Regiment has a long and checkered history of 3 Centuries. It was initially formed by the British East India Company in 1660 as the Madras European Regiment to fight the French Army and defend the south -eastern coastal parts of the Indian sub-continent.
Major Stringer Lawrence, in 1748, structured the several companies of soldiers created by the East India Company into two battalions. Each battalion has 800 men and were divided into 8 companies.
Battle of Assaye, in 1803 was the regiment's first major conflict and decisive victory under the British against the mammoth Peshwa Army. The Madras regiment won the elephant-crest as its insignia after the battle that was more difficult than Waterloo.
East India Company practically subdued most parts of Indian sub-continent with the help of sepoys of Madras Regiment.
By 1838, The Madras Regiment has grown to 52 Infantry Battalion, but it was disbanded in in 1941 as the region was largely peaceful.
Before disbandment in 1928, the Madras Regiment had earning 22 battle honours.
It was the World War I which necessitated the raising of eight new battalions.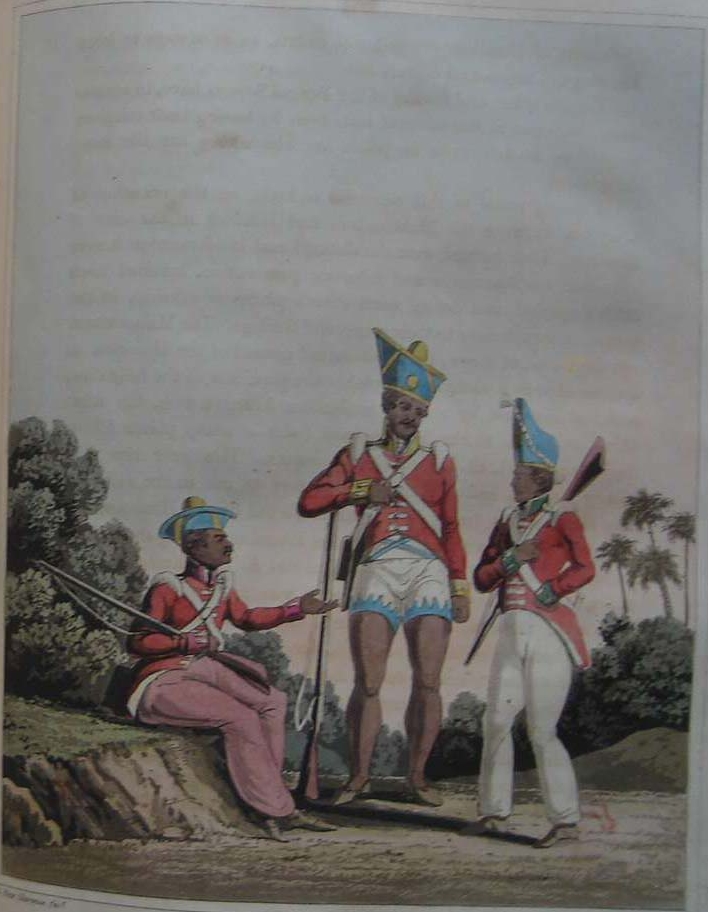 Post-Independence
After independence the infantry battalions of the Travancore "Nair Pattalam", Cochin and Mysore State forces were amalgamated into the Madras Regiment.
Recruitment of Madras Regiment
The Regiment recruits from the five southern states – Tamil Nadu, Kerala, Andhra Pradesh, Telangana and Karnataka
Military Operation
The versatility and valour of the South Indian troops were seen when it fought fierce battles during most military operations of Independent India.
1947-48 Jammu and Kashmir Operations
In 1962 Sino-Indian Conflict
Though India lost the war that was thrust upon the army, these Madras Battalions deployed with Punjab Regiment at the two extremes ends of 3500 km long disputed border, won their honours respectively at Rezang La and Walong against heavy odds and huge sacrifices in an otherwise appalling national humiliation.
Indo-Pak Wars of 1965
3 Madras was given the responsibility to capture Maharajke village which was part of the larger game plan – Operation Riddle. The village was 2.5 km inside Pak territory, the assault began with open fire with artillery, medium machine gun and rifles from the enemy. Despite the effective fire, the Army relentlessly kept up the pace of assault and with remarkable courage captured Maharajke within one day.
Indo-Pak War of 1971.
Assigned to press home an attack on Siramani in East Pakistan, a fortified military base of Pakistan the gallant 'Thambis', despite strong enemy resistance succeeded in capturing the post through sheer exhibition of courageousness and professionalism.
It was awarded 'Theatre Honour East Pakistan – 1971' and 'Unit Appreciation – 1997-99' for its professional excellence.
Operation Pawan in 1987–89
The deployment of as many as seven battalions of the Regiment in Sri Lanka was a testimony to the faith the Indian Army reposed in the loyalty, dedication and valour of the troops of the Madras Regiment.
Two battalions (3 and 25 Madras) of the Regiment have been awarded unit citations by the COAS in recognition of their splendid service in combating insurgency in Jammu & Kashmir and Punjab.
Kargil War 1999
As many as eight battalions have served the nation in Siachen since 1988 the world's highest battlefield in the sub-zero temperatures of Siachen Glacier.
They have also served in India's highest battlefield, Siachen, with distinction.
UN Peacekeeping Missions
The Madras Regiment has taken part in various humanitarian aid operations in India. It has also taken part in various UN Peacekeeping missions as observers and soldiers of peace.
Humanitarian Deed that earned them the nickname -Goonda
The 2nd battalion in 1951 was stationed in Rajasthan, the soldiers helped the famine affected population by procuring food grains that were intended for some other destination. The then Governor was impressed by the deed and gave them the nickname -Goonda.
Battle Honours:
Tithwal,
Punch,
Kalidhar,
Maharajke,
Siramani and
Basantar River.
Honours , Awards and Citations:
1 Ashok Chakra,
5 Maha Vir Chakras,
39 Vir Chakras
170 Sena Medal
9 Param Vishisht Seva Medals,
8 Kirti Chakras,
32 Shaurya Chakras,
1 Uttam Yudh Seva Medal,
16 Ati Vishisht Seva Medals,
32 Vishisht Seva Medals,
151 Mention-in-Despatches,
210 COAS's Commendation Cards,
140 GOC-in-C's Commendation Cards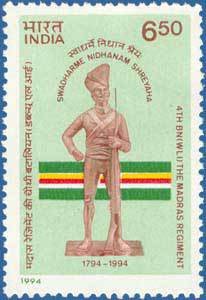 Current strength
The 1st Battalion (former 73rd Carnatic Infantry) became the 1st Battalion of the Mechanised Infantry Regiment.
Currently the regiment has a strength of 21 battalions as follows:
2nd Battalion (old 75th Carnatic Infantry)
3rd Battalion (old 79th Carnatic Infantry)
4th Battalion (old 83rd Wallajahabad Light Infantry)
5th Battalion (Ferocious Five)
6th Battalion (old 2nd Btn/2nd Madras Native Infantry)
7th Battalion (old 28th Madras Native Infantry)
8th Battalion (Gallant Guerrillas)
9th Battalion (former 1st Travancore Nair Infantry, Princely State Forces)
10th Battalion
11th Battalion (old Territorial Battalion)
12th Battalion (old Territorial Battalion)
16th Battalion (former 2nd Travancore State Nair Infantry, Princely State Forces)
17th Battalion (former Cochin State Infantry, Princely State Forces)
18th Battalion (former 1st Mysore Wadiyar Infantry, Princely State Forces)
19th Battalion (former 2nd Mysore State Infantry, Princely State Forces)
20th Battalion (raised 2009)
21st Battalion (raised 2011)
25th Battalion (old garrison battalion)
26th Battalion (old garrison battalion) (Tuskers Battalion) Ashok Chakra Paltan
27th Battalion (old garrison battalion)
28th Battalion (old coastal defence battalion)
8 Rashtriya Rifles
25 Rashtriya Rifles
38 Rashtriya Rifles
54 Rashtriya Rifles
Besides the 21 line battalions, the Madras Regiment has three Territorial Army battalions:
110th Infantry Battalion (TA) situated in Coimbatore, Tamil Nadu
122nd Infantry Battalion (TA) situated in Kozhikode, Kerala
172nd Infantry Battalion (TA) situated in Campbell Bay, Andaman & Nicobar Islands
Interesting Snippets about Madras Regiment
It is the only Tamil speaking brigade in the entire Indian army.
The 9th Battalion, earlier identified as the Nair Brigade (Nayar Pattalam), they were guards for the Maharajah of Travancore and joined the Indian Army in April 1951. In 2004, this battalion completed 300 years of service.
Many well-known British officers have commanded this regiment, among them Robert Clive.
The sepoys of the Regiment were favourites of the Sir Arthur Wellesley, the 1st Duke of Wellington.
The Assaye Elephant of the Madras Regiment depicts the seven qualities of the regimental soldiers' strength, confidence, endurance, courage, faithfulness, sagacity and obedience.
Kalarippayattu the ancient martial art form is a part of the training for every soldier.
Lovingly, the soldiers are called "Tammbi" meaning younger brother.