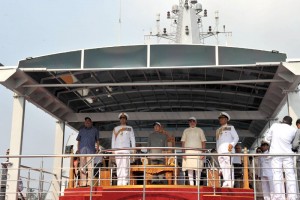 By Sangeeta Saxena
On Board INS Sunayna. Somewhere in the Bay of Bengal.06 February,2016.The still waters of Bay of Bengal came alive when navies from across the globe moved in columns to salute the Supreme Commander of the Indian Navy, President Pranab Mukherjee, at the International Fleet Review 2016. Seventy-one Indian ships of which sixty six  naval ships including three submarines and aircraft carriers, INS Vikramaditya and INS Virat, two Coast Guard patrol vessels and three merchant ships showcased the Indian might along with an impressive international participation by twenty four foreign ships, in the biggest military exercise of India in recent times.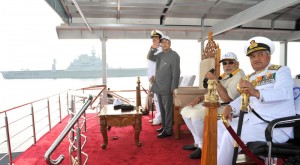 This was the eleventh Fleet Review after Independence and the second with participation of foreign navies.  After a 21-Gun salute and ceremonial Guard of Honour, the President embarked INS Sumitra, an indigenously built Naval Offshore Patrol Vessel (NOPV) designated as the 'Presidential Yacht' along with the Prime Minister Narendra Modi, Defence Minister Manohar Parrikar, the three service chiefs  and othe VVIP guests.The Presidential column had four ships including the INS Sunayna  which hosted the media.
Three Khukri class of missile corvettes built by Mazagon Docks Limited, Mumbai and the Garden Reach Shipbuilders and Engineers (GRSE), Kolkata to the specifications of a light, fast, heavily armed surface corvette capable of carrying a Chetak helicopter , INS Kirpan, INS Kuthar and INS Khanjar led the Indian naval might . Following the were two ships of the Kora class, INS Kirch and INS Karmuk .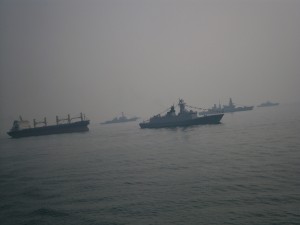 INSV Mhadei  was designed by Van De Stadt Design Bureau, Netherlands and indigenously constructed by M/s Aquarius Fibreglas Private Limited, which has a sizable women crew  was sailing with pride as a part of the contingent.
INS Kolkata the lead ship of the 7400-ton Kolkata class guided missile stealth destroyers to be built in India, successor to the well-known Delhi class, Kolkata is the largest destroyer to be operated by the Indian Navy , commissioned in 2014 and  capable of carrying two Sea King helicopters was participating in the review.
Indian Navy's  survey ships INS Nirupak, INS Darshak and INS Sandhayak, that primarily carry out hydrographic survey operations to prepare maritime charts for seafarers,  equipped with state-of-the-art hydrographic systems, were also a part of the fleet being reviewed.
INS Tabar, INS Teg and INS Tarkash are participating in the review were the Talwar class guided missile frigates designed and built in Russia and inducted into the Indian Navy between 2003 and 2004. These ships incorporate latest stealth features which include reduced radar, infrared, acoustic and magnetic signatures. This is complemented by an advanced sensor suite, combat management system and an integral Airborne Early Warning Kamov 31 helicopter.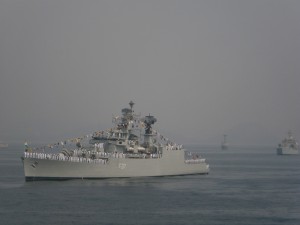 All three ships of the Shivalik class, INS Shivalik, INS Satpura and INS Sahyadri a proudly sailed  to be reviewed. The 5300-ton Shivalik class guided missile frigates were designed by the Indian Navy's Design Organisation and built by Mazagon Docks Limited, Mumbai. The three ships of the class were commissioned in 2010, 2011 and 2012 respectively.
The Brahmaputra class of guided missile frigates were indigenously designed as a follow-on to the Godavari class of ships. These were built by Garden Reach Shipbuilders and Engineers (GRSE), Kolkata and inducted into service between 2000 and 2005. INS Beas was a part of the review..
Two tankers INS Shakti and INS Jyoti built by the Admiralty Shipyard, St. Petersburg, Russia as a merchant tankers were also a part of the retinue. INS Jyoti with her double skin hull and special equipment fitted on board to prevent marine and environmental pollution,  is an eco-friendly tanker. Workshop facilities on the INS Shakti can support other ships of the fleet and it is capable of supporting heavy helicopters.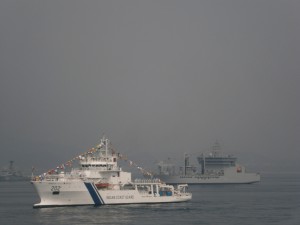 Training ships INS Tarangini and INS Sudarshini are tall ships of the Indian Navy, built by Goa Shipyard Limited and were participating at the review. The cadets lined up to salute the Supreme Commander made a great sight and Navy's future bright.
INS Kamorta and INS Kadmatt participating in the review werethe Kamorta class ships, first indigenous anti-submarine stealth corvette built by India. INS Kadmatt was the youngest ship in the fleet as it had got commissioned in January 2016. The ships have CODAD propulsion and advanced stealth features that make her less susceptible to detection. The ship is well equipped to fight in Nuclear, Biological and Chemical (NBC) warfare conditions.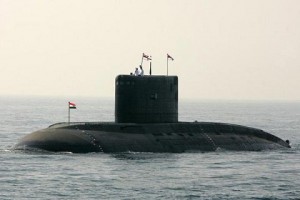 All four NOPVs, INS Sumitra, INS Sunayna, INS Saryu and INS Sumedha are participating in the review. Further, INS Sumitra led the Presidential column during the IFR. The NOPV class of ships are conceived, designed and built indigenously by Goa Shipyard Limited, Goa. These ships are among the latest platforms of the Indian Navy and have been primarily designed to undertake prolonged operations off the Gulf of Aden towards meeting the constabulary role of the Indian Navy. The ships are also capable of being deployed for undertaking patrolling of offshore platforms as part of EEZ surveillance.
Four ships of the OPV class, INS Sukanya, INS Subhadra, INS Suvarna and INS Sujata are participating in the review. While IN ships Sukanya, Subhadra and Suvarna were built in South Korea, Sujata was built at Hindustan Shipyard Limited, Visakhapatnam.
The 5000-ton Rajput class of ships are modified versions of the Soviet Kashin class destroyers built for the Indian Navy.These ships were commissioned between 1980 and 1988. The ship is also a potent Anti-Submarine Warfare platform with indigenous sonar and an integral Kamov 28 helicopter which can seek and destroy submarines. INS Ranvir and INS Ranvijay are participating in the review.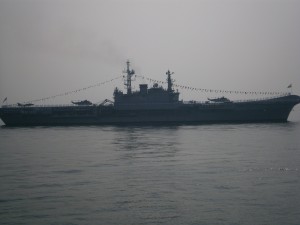 INS Ganga the Godavari class of ship ,indigenous guided missile frigates designed by the Indian Navy's Directorate of Naval Design and built by Mazagon Docks Limited, Mumbai. They pack a powerful punch with their sophisticated electronic warfare suite along with modern underwater sensors. The ships are capable of carrying two Sea King helicopters each.
INS Sagardhwani in the fleet  is the Indian Navy's only Marine Acoustic Research Ship (MARS), indigenously designed and constructed by Garden Reach Shipbuilders and Engineers, Kolkata. The ship, being a scientific platform, is well equipped with eight laboratories manned by scientists to undertake underwater scientific missions. It is also utilised for testing of experimental torpedoes and underwater vehicles, as a test platform for design-stage underwater sensors and weapons and as a floating platform for tracking and parameter monitoring of experimental launches.
Two missile corvettes INS Nirbhik and INS Vibhuti  which are lightweight, agile and packed with a wide arsenal of weapons and sensors, ideally suited for search and attack missions, patrol and forward deployment participated in the review.
INS Cuddalore, INS Kozhikode, INS Cannanore and INS Konkan form part of the 21 Mine Counter Measures Squadron based at Visakhapatnam. All four ships of the class are participating in the review.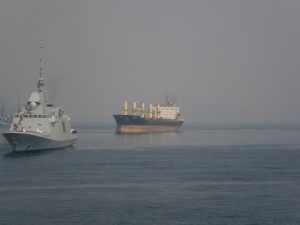 The biggest attraction at the IFR were the two aircraft carriers INS Vikramaditya and INS Virat. INS Viraat which was in its last review as it is due to retire this year, was commissioned into the Indian Navy on 12 May 1987 and since then the ship has served as the Flagship of the Western Fleet with pride. With an overall length of 227m, breadth of 46m and displacement of 29,000 tons, the ship is capable of operating the VSTOL Sea Harrier fighter as well as the Sea King, Kamov 31, indigenous ALH and Chetak helicopters. The ship is capable of carrying 30 aircraft in various configurations. Viraat is a conventional steam propelled ship and routinely operates at sea for durations upwards of three months at a time, while sustaining speeds up to 28 knots. The ship has a complement of 150 officers and 1500 sailors complete with attendant logistics infrastructure.
INS Vikramaditya is a modified Kiev class aircraft carrier which entered service with the Indian Navy in 2013.With a capacity of over 8,000 tons of LSHSD, she is capable of operations over a range of 7,000 nm non-stop. The ship has the ability to carry over 30 aircraft comprising an assortment of MiG 29K/Sea Harrier fighter aircraft and Kamov 31, Kamov 28, Sea King, ALH-Dhruv and Chetak helicopters. The MiG 29K swing role fighter is the main offensive platform and provides a quantum jump for the Indian Navy's maritime strike capability.
Modern day naval warfare is incomplete without control over the seas beneath the surface. The submarines which protect the Indian naval fleet from enemy strikes  were the popular sights on the surface waters of the Bay of Bengal. The Sindhughosh class of submarines, designated 877 EKM, were designed and built under a contract between the erstwhile Soviet Union and India. A total of ten submarines were inducted between 1986 and 2000. Also called the Kilo class in NATO parlance, these diesel-electric submarines have a displacement of roughly 3,000 tons, a maximum diving depth of 300 mtrs, top speed of 18 knots and are able to operate solo for forty-five days with a crew of fifty-three. They are equipped with an array of anti-ship and anti-submarine weaponry including the Klub anti-ship cruise missile with a range of 220 km. Three boats of the class, INS Sindhuraj, INS Sindhuvir and INS Sindhukirti are participating in the review.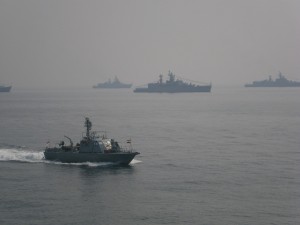 Keeping in pace with the maritime technology ,LST(L) class of ships  form the front line of the Indian Navy's amphibious warfare capabilities. Indigenously designed and built by Garden Reach Shipbuilders and Engineers (GRSE), Kolkata, these vessels  can carry fifteen tanks, ten trucks and over two hundred troops. They have an integral commando carrying, Sea King helicopter for airborne induction and four LCAs (Landing Craft Assault) for launching amphibious assaults over the horizon. Three amphibious vehicles  INS Shardul, INS Kesari and INS Airavat made India proud at the  review.
Two Indian Coast Guard ships ICG Samudra Pahredar and ICG Vishwast along with a Griffon Class hovercraft were apart of India's might. The role of the force in modern day maintenance of peace and stability in Indian waters and beyond cannot be questioned. Indian Coast Guard is the most important partner of the Indian Navy when it comes to securing the coast lines from both conventional and non-conventional warfare.
The  IFR was a projection of India's Made in India prowess and Indian Navy's commitment towards Make in India. It was also about India's growing popularity in the world map and acceptance of Indian Navy's role in maintaining peace and stability in the known waters and beyond. And above all it was about letting the world know India can look after itself well and nefarious designs of not so friendly nations will be dealt with strongly and full competence. The IFR 2016 was indeed the biggest maritime show  in recent times and got the otherwise  sleepy city of Vishakhapatnam on the world map.