New Delhi. 28 September 2020. L&T supplies a variety of Weapon Launchers and Artillery Systems to the Indin Army. It has received the largest contract to any Indian private company from Indian MoD, for delivery of 100 K9 Vajra-T Guns. It is one of the only two private Indian firms, which have been qualified to manufacture and supply Pinaka Multi Barrel Rocket Launchers to the Indian Army. L&T has the capability to design, develop, manufacture and provide support for a variety of Weapon Launchers, Artillery Systems, Armoured Systems, Engineering Systems and Air Defence Solutions.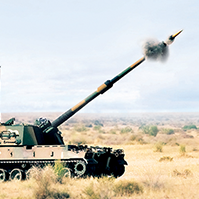 K9 VAJRA-T is an adaptation of K9 Thunder, which is unequivocally the world's most widely used 155mm / 52 Cal. SP Gun in terms of number of systems in active service.
Developed in partnership with Hanwha, Korea, this gun offers a number of advantages:
Longer firing range enabling deep fire support
High rate of fire and accuracy
High mobility and protection levels
Proven reliability in extreme weather conditions and hostile terrain
Conformability to any field artillery unit
L&T has received the largest contract to any Indian private company from the Indian MoD for delivery of 100 Guns along with associated Engineering Support Package (ESP) and Maintenance Transfer of Technology (MToT).
K9 VAJRA-T Guns delivered under this contract have more than 50% indigenous content and roll out of L&T's state-of-the-art facility Armoured Systems Complex at Hazira.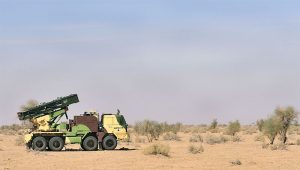 The Pinaka Multi-Barrel Rocket Launcher (MBRL) System is a high-tech, all-weather, long-range, area fire artillery system built on an 8 x 8 chassis with high cross-country mobility. It is fitted with hydraulic outriggers with an auto leveling feature to stabilise the launcher during launch.
The Pinaka MBRL is designed by L&T as an artillery system that is built for operating in 'silent mode' and is based on all-electric low-voltage battery backed technology developed in-house. Pinaka Launchers and Command Posts have been serially produced by L&T with indigenous content in excess of 80 per cent.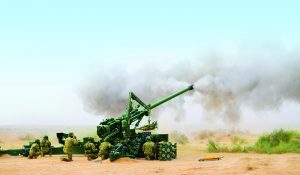 The 155 mm/ 52 calibre Towed Gun System TRAJAN® has been developed in collaboration with Nexter Systems, France. TRAJAN® has high indigenous content. The system employs ordnance and aiming system from CAESAR®. This solution, built on well-proven and mature systems, benefits from high reliability and technological advances, to become one of the world's most advanced 155 mm/ 52 Cal. Towed Gun System.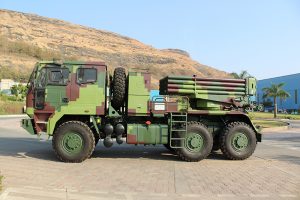 The vehicle platform for Grad BM21 Multi Barrel Rocket Launcher (MBRL) is an all-wheel drive, high mobility platform built for the Grad BM21 launcher.
Key features:
Automatic transmission with effective cross-country mobility
Redundant power source with advanced power distribution system for powering the launcher
Suspension lock system to stabilize the platform during rocket firing