By Brig Vijay Atray
Kattupalli, Chennai June 20, 2017. Floating Dry Dock built by LNT launched by Anjali Deshpande w/o Vice Adm Deshpande
Larsen & Toubro today launched a Floating Dry Dock ( FDN2 ) designed & built for the Indian Navy at the company's Greenfield shipyard at Kattupalli, near Chennai in  with  usual rituals of Pooja & beating of the drums.
A floating dry dock is a type of pontoon for dry docking ships, possessing floodable buoyancy chambers and a "U"-shaped cross-section. When valves are opened, the chambers fill with water, causing the dry dock to float lower in the water. The deck becomes submerged and this allows a ship to be moved into position inside. When the water is pumped out of the chambers, the dry dock rises and the ship is lifted out of the water on the rising deck, allowing work to proceed on the ship's hull.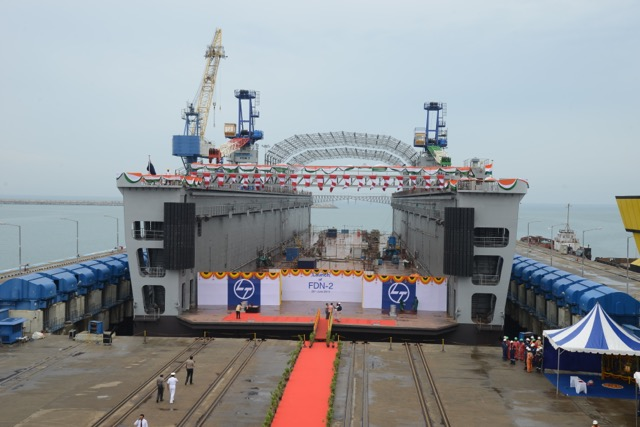 A typical floating dry dock involves multiple rectangular sections. These sections can be combined to handle ships of various lengths, and the sections themselves can come in different dimensions. Each section contains its own equipment for emptying the ballast and to provide the required services, and the addition of a bow section can facilitate the towing of the dry dock once assembled. For smaller boats, one-piece floating dry docks can be constructed, potentially coming with their own bow and steering mechanism.However, FDN 2 doesn't have sections but can take in number of smaller ships.
Shipyards operate floating dry docks as one method for hauling or docking vessels. Floating dry docks are important in locations where porous ground prevents the use of conventional dry docks, such as at the Indian Navy in Andaman Nicobar Islands.. Another advantage of floating dry docks is that they can be moved to wherever they are needed . During World War II the U.S. Navy used such floating dry docks extensively to provide maintenance in remote locations.
The Floating Dock was formally lowered into the waters of the Bay of Bengal by Mrs. Anjali Deshpande, in the presence of her spouse Vice Admiral Deshpande, Controller Warship Production & Acquisition of the Indian Navy, Mr. J.D. Patil, Senior Executive Vice President & Whole time Director (Designate) – Defence, Larsen & Toubro, Vice Admiral B. Kannan (Retd), MD & CEO L&T Shipbuilding, and other dignitaries.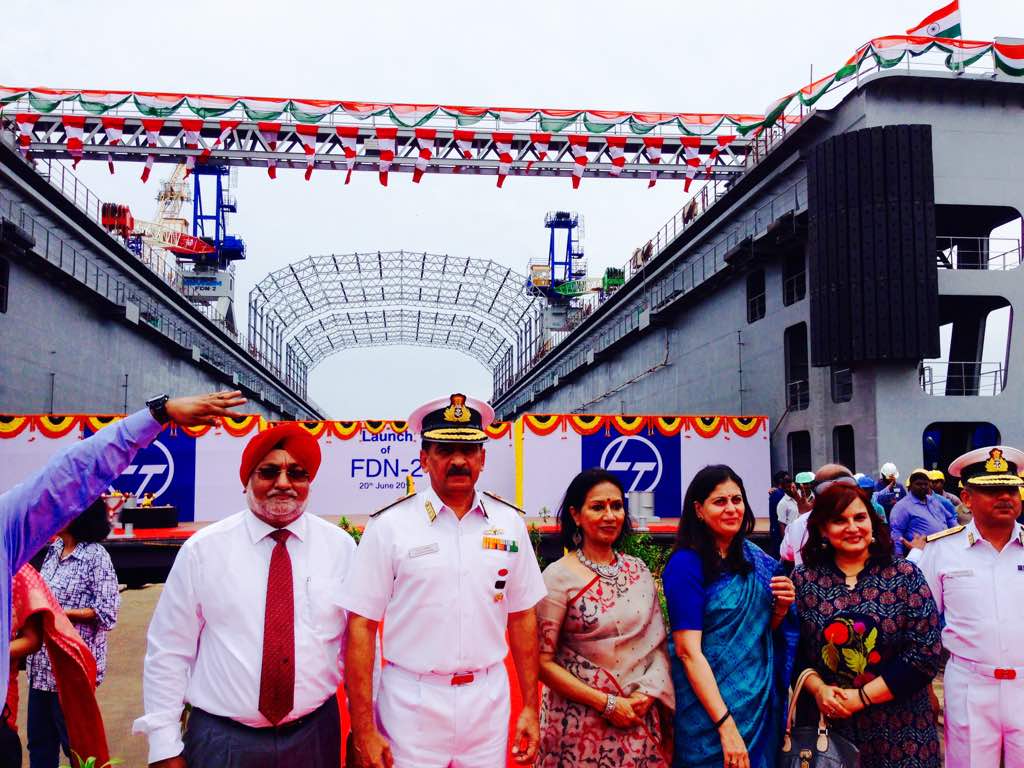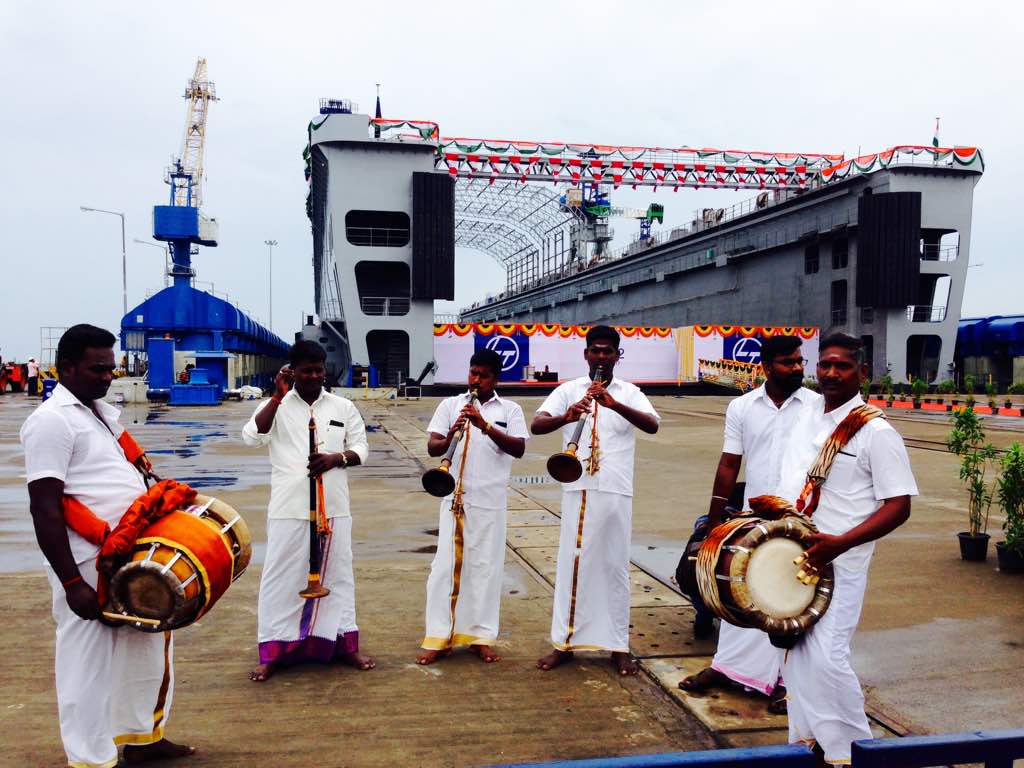 L&T was mandated by the Ministry of Defence in May 2015 to design and build the FDN-2 for an order value of Rs. 468 Crores. The Floating Dock will be delivered at Port Blair well within contracted schedule, reaffirming L&T's capabilities to execute and deliver Defence projects on time using Indian design, indigenous technologies and construction skills.
On completion of its launch at Kattupalli, FDN-2 would now be put through a series of harbor trials before delivery to the Navy. Once operationalized, it would enhance the technical repair infrastructure of the Navy for ships based at the Andaman & Nicobar Islands as well as for visiting Naval ships. The Indian Navy already has a FDN at Andamans which was bought second hand in 1987.
Vice Admiral Deshpande mentioned that this is the first indigenous Floating Dry Dock which will be moved to Andaman & Nicobar islands.This would enhance our capability of repairs & maintence of our fleet there & enhance the security of our frontiers in the south east.He added that it would be able to dry dock all the destroyers & warships upto 8000 tons.
Mr. Jayant Patil said: "It is an affirmation of the in-house capabilities and track record of L&T that we are launching the FDN-2 for the Indian Navy ahead of schedule today, as a sequel to having already delivered 32 interceptor boats to Indian Coast Guard. This has been made possible by dedication and commitment of the team at L&T, our relationship of trust with Indian Navy across the value chain for Naval platforms and the forward-looking policies pursued by the Government to facilitate procurement of indigenous equipment for our Armed Forces."
"L&T has invested in building state-of-the-art facilities at Kattupalli, and we look forward to continued service to the Indian Navy in endeavors of National capability building," Mr. Patil added.
The Floating Dock, which is the first Naval shipbuilding project for L&T, is 185 m long and 40 m wide, and is designed for docking Indian Naval ships and submarines of up to 8000 T displacement with draughts of up to 7 m, during both day and night. Simultaneous docking of multiple ships, and off-center docking options are also feasible. The entire design and construction process has been progressively certified by Lloyds Register of Shipping Society and overseen by the Navy's resident team at Kattupalli. The dock, which conforms to internationally accepted norms, incorporates a fully automated ballast control system, inducting state-of-the-art technology in its equipment.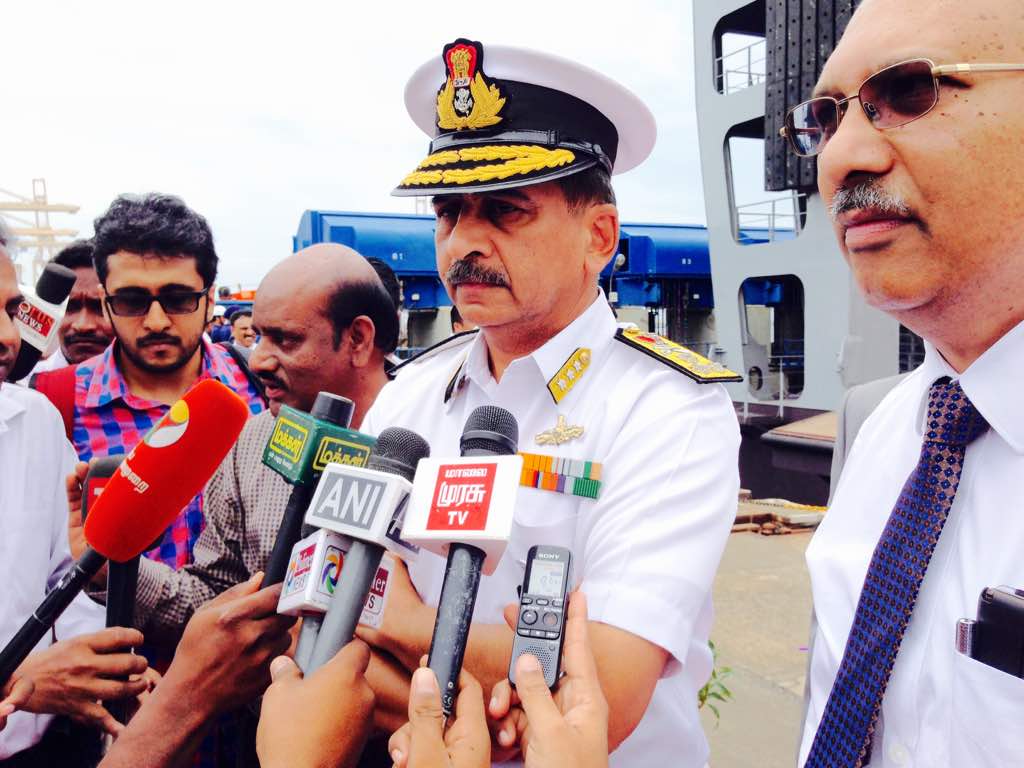 "The main challenge faced on this project, as it would characteristically be in any first ship of a class, pertained to managing design and production activities concurrently," elaborated Vice Admiral B. Kannan. "We have achieved a high level on this through Digital Shipbuilding technologies as well as through a focused approach of 'getting it right first time' duly reinforced by the rich work ethics of L&T."He added that digital technology in designing,building & management was used extensively during its construction which contributed a lot in precison,speed and completion of the Project in time.
The Floating Dock has been designed as a versatile dock that can be installed either along a jetty or moored in calm waters enabling round-the-year operation. It is provided with a hauling-in system to handle a ship's docking and undocking operations. It can also support ships berthed along its side and meet their logistics requirements.
L&T has also been mandated by the Coast Guard to design and build seven Offshore Patrol Vessels (OPVs). Two of these OPVs are to be launched in the second half of this financial year, on schedule.
In addition, L&T is also undertaking repairs and refits of Naval and Coast Guard ships regularly and delivered six refit ships (including the largest Logistics Tanker ship INS Jyoti) from its shipyard at Kattupalli, which now is focusing only on Defence orders.
Indeed a historical moment for not only L&T but for the entire  nation.