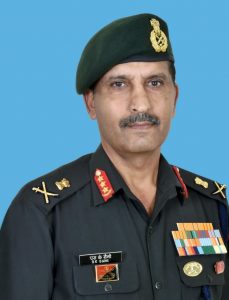 New Delhi. 17 October 2020. The Vice Chief of the Army Staff Lt. Gen SK Saini, is on a visit to the US Army Pacific Command (USARPRAC), the Army component of Indo-Pacific Command (INDOPACOM) to exchange ideas extensively with the military leadership apart from witnessing training and equipment capabilities of US Army.
Later, the Vice Chief of the Army Staff will also visit INDOPACOM where aspects of military cooperation and furthering military to military engagement including procurements, training in niche domains, joint exercises and capability building will be discussed.
The visit will further enhance the operational and strategic level collaboration between both armies, which is emphasised by the fact India is participating in two joint exercises with the US despite COVID-19 restrictions. These are Yudh Abhyas (February 2021) and Vajra Prahar (March 2021).
U.S. Army, Pacific's Exercise Yudh Abhyas is a regularly-scheduled bilateral exercise hosted by the Indian and U.S. Armies which allows for an exchange of knowledge between the two militaries using a U.N. peacekeeping scenario. Yudh Abhyas has been ongoing since 2004, and is designed to promote cooperation between the two militaries while sharing training, cultural exchanges, and building joint operating skills. Annual training with the Indian Army began at the platoon exchange level to enhance the ability to conduct joint and multi-national operations in support of U.S. Pacific Command's theater campaign plan.
'Vajra Prahar' is a Special Forces joint training exercise conducted alternately in India and the US. This exercise enables sharing of best practices and experience in areas such as joint mission planning capabilities and operational tactics. Though the exercise began in 2010, there was a gap of three years between 2012 and 2015.
U.S. and Indian relations continue to be that of mutual respect and hold the promise of continued improvement for years to come. Bilateral military exercises and defence exchanges are an important aspect of deepening bilateral defence cooperation between India and USA.