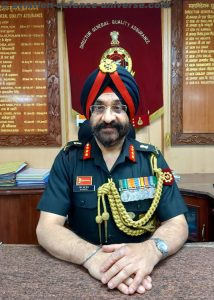 New Delhi. 25 February 2023. Lt Gen RS Reen took over as Director General Quality Assurance on February 24, 2023. A 1986-batch officer, Lt Gen Reen is an alumnus of Indian Military Academy, Dehradun. The Officer had completed his BE (Electrical) from National Institute of Technology, Srinagar, Specialisation in Radio Engineering and post-graduation in Communication Engineering from MC EME, Secunderabad. He was a senior faculty at Defence Institute of Quality Assurance, Bengaluru.
In addition, the Officer is a certified Six Sigma Black Belt from Indian Statistical Institute, Kolkata. He has done certification in Reliability Engineering from IIT, Kharagpur and is Qualified Lead Auditor in Quality Management System & Integrated Management System from Bureau Veritas, Bengaluru. The Officer has headed a Senior Quality Assurance Estt., Brig at Headquarters, Directorate General of Quality Assurance (DGQA) and was Controller (Missile System) in Secunderabad. The Officer headed the DQA(L) as Additional Director General (Electronics) at HQ DGQA, New Delhi.
The DGQA is an Inter-Service Organisation functioning under the Department of Defence Production in the Ministry of Defence. It is responsible for second party Quality Assurance of all defence stores and equipment, both imported as well as indigenous, for the Indian Army, Indian Navy (excluding Naval Armaments) and common user items for the Indian Air Force procured from private sector and public sector undertakings.