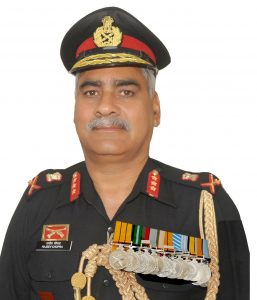 New Delhi. 01 February 2019. Lt Gen Rajeev Chopra assumed the appointment of Director General of NCC (DGNCC) here today. Commissioned in the Madras Regiment in December 1980, Lt Gen Chopra is an alumnus of the National Defence Academy, Khadakwasla and Indian Military Academy, Dehradun.
Lt Gen Rajeev Chopra has commanded an infantry battalion in Operation Rhino (Assam). He has commanded a Brigade in Eastern Command and was Inspector General of HQ IGAR (South) in the insurgency-torn state of Manipur. The General Officer commanded a Corps in Eastern Theatre and has also been the Commandant of the prestigious Infantry School. He is also the Colonel of The Madras Regiment since Jun 2016.
He is a graduate of Technical Staff Officers Course, has attended the Higher Command Course at National Defence University, China and National Defence College, New Delhi. He holds a Diploma in Defence & Strategic Studies from National Defence University. He has been awarded Ati Vishisht Seva Medal for his distinguished service in Jan 2018.