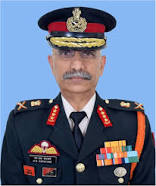 New Delhi. 16 December 2019. Lieutenant General Manoj Mukund Naravane, PVSM, AVSM, SM, VSM, ADC is going to be the next Chief of Army Staff (COAS) and will succeed General Bipin Rawat on 31st December 2019. He is currently the 40th Vice Chief of Army Staff (VCOAS) of the Indian Army. He assumed office on 1 September 2019 following the retirement of Lt Gen Devraj Anbu.
Prior to this appointment, he was the General Officer Commanding-in-Chief (GOC-in-C) Eastern Command and before that GOC-in-C Army Training Command. Naravane was commissioned into 7th Sikh Light Infantry in June 1980. He has vast experience and has served in Counter-Insurgency Operations in Kashmir and Northeast India. He has commanded a Rashtriya Rifles battalion in Jammu and Kashmir; an Infantry brigade; Assam Rifles in Northeast India as Inspector General (North); Kharga Strike Corps the Ambala based Strike Corps; General Officer Commanding (GOC), Delhi Area and 20th General Officer Commander-in-Chief (GOC-in-C), Army Training Command (1 December 2017 – 30 September 2018). In addition, he was an instructor at the Army War College, Mhow and served as the Indian Defence Attache to Myanmar. He was also the commander of the 2017 Republic Day Parade.
Naravane served as General Officer Commanding-in-Chief, Army Training Command from 1 December 2017 to 30 September 2018. Later, he also served as General Officer Commanding-in-Chief, Eastern Command from 1 October 2018 to 31 August 2019, succeeding Lt Gen Abhay Krishna.
Naravane completed his school education in Jnana Prabodhini Prashala, Pune. Naravane is an alumnus of National Defence Academy, Pune and Indian Military Academy, Dehradun. He also holds a master's degree in Defence Studies from University of Madras, Chennai and an M.Phil. in Defence and Management Studies from Devi Ahilya Vishwavidyalaya, Indore.