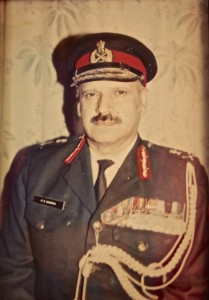 General Neel Rattan Khanna, PVSM (Retd) was commissioned in the Indian Army in June 1958 and retired in January 1997 as Engineer-in-Chief of the Army. In this appointment he was responsible for combat engineer support to the Indian Army and was also Head of the Military Engineering Service which caters for all construction works for Army, Navy, Airforce and other organisations under the Ministry of Defence.
General Khanna is an alumni of National Defence Academy, Defence Services Staff College and Institute of Defence Managment. His qualifications include MSc (Defence Studies) and Fellow of the Intitution of Engineers which is equivalent to Master of Engineering. He is also a Fellow of the Indian council of arbitrators, Fellow of the Indian council of surveyors and member of the Panel of Arbitrators for FICCI. He was also member of the Senate of IIT Rookree from 1998 to 2000.
During his tenure General Khanna held various staff and instructional appointments such as instructor in College of Combat, Cheif Engineer of Border Roads Organisation and major general in charge of operational logistics of an army command.
He was awarded the Param Vishist Sewa Medal in 1996.
After his retirement, General Khanna has worked as Arbitrator for National Highway Authority of India and New Dehli Muncipal Council .