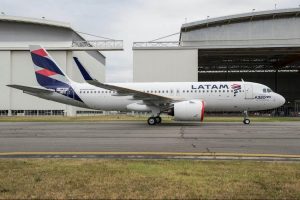 Santiago, Chile. 12 July 2016. LATAM Airlines Brasil will become the first airline in South America to fly the A320neo.  The airline group was the first A320neo customer in Latin America and has more than 250 Airbus planes in operation.
The  Group's first A320neo rolled out of the Airbus Final Assembly Line in Toulouse after the installation of Pratt & Whitney Pure Power PW1100-JM engines, showcasing the airline's new coral and indigo livery.
The aircraft will continue through the next stages of production, including completion of cabin furnishing, ground and flight tests. The aircraft is scheduled for delivery to LATAM Airlines Group in the near future.