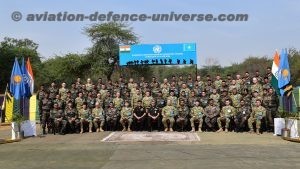 New Delhi. 19 March 2018. In order to enhance peacekeeping capacity & meet the aspirations of Kazakhstan for their first ever deployment under United Nation umbrella in UNIFIL, India and Kazakhstan commenced joint training on peacekeeping operations at National Capital. The joint training christened as KINPOT (Kazakhstan India Peacekeeping Operation Training) is scheduled from 19 Mar to 13 Apr 2018.
It is for the first time ever that the troops of both Kazakh and Indian Armies would share a common platform in Peacekeeping Operations. As a prelude to the joint deployment of Kazakhstan and Indian Army contingents in Lebnon, the training curriculum is designed with an aim of seamless integration of troops of both armies and to enhance their respective training capacities. Having undergone the joint training, the participants would be better equipped to understand the scope, parameters, Challenges and finer nuances of peacekeeping operations and also the organisation, capabilities and functions of United Nation System.
The training schedule will set up an array of contents which not only will take the participants through the basic foundations of United Nation System but also provide a deep insight into the societal norms of Kazakhstan and India.
Brig A Sengupta, YSM, Deputy Director General, Staff Duties inaugurated the joint training. While speaking to the participants of KINPOT, he emphasized on the need of joint training and integration prior to the deployment. A strength of 30 Personnel from Kazakhstan Army and 30 personnel from Indian Army are participating in the joint training.