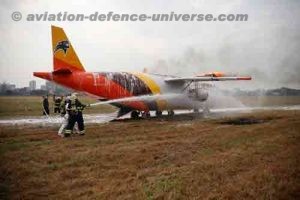 Mumbai. 30 November 2021. In order to test the readiness in times of unforeseen crisis, Chhatrapati Shivaji Maharaj International Airport (CSMIA) conducted a simulated Full Scale Emergency Exercise (FSEE) on 30th November 2021. The 03-hour long exercise began at 12:00 hrs & concluded at approximately 15:00 hrs. The mock exercise was conducted by simulating an aircraft overshooting the runway and catching fire. The simulation tests the preparedness of multiple stakeholders involved to combat emergencies in real-time and to ensure minimal to no inconvenience to other operations at the airport.
For the exercise, a medium sized model aircraft – Black Panther was used as a dummy aircraft that overshot the runway. The under carriage of the aircraft was set aflame assuming that owing to excessive braking the aircraft will catch fire. The drill began by the ATC notifying a fire on the model aircraft where a Vistara aircraft – A320 was parked far away from the dummy aircraft, had flight crew and participants as passengers in the aircraft. 118 'passengers' and 7 'crew members' were evacuated from the aircraft. 77 'passengers' 'sustained minor injuries' and 10 'passengers' with 'critical injuries' were shifted to nearby hospitals and 22 'passengers' unfortunately 'deceased' on the spot, while 16 passengers and crew members received no injuries.
CSMIA's FSEE was in collaboration with Vistara airlines, who were the airline partner in the disaster preparedness drill. The FSEE is a biannual exercise which was previously conducted in 2019. It tests resilience of participating agencies and is a practice drill that allows for stakeholders to understand and evaluate their preparedness while maintaining operational continuity. The activity involved a host of stakeholders from different departments from the airport and airlines such as Air Traffic Control, Vistara Airline, CISF, Airport Health Organization, Customs, Immigration, Ground Handling Agencies, Mumbai Police, Mumbai Fire Brigade, Civil Defence, State Disaster Management Authority, National Disaster Response force, MCGM Disaster Management Cell, Hospitals and Ambulance Services. According to the International Civil Aviation Organization and DGCA rules, it is compulsory for all airports and airlines globally to conduct a full-scale emergency exercise once every two years.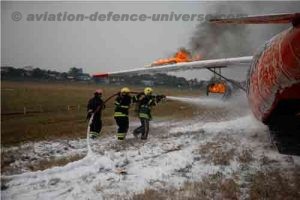 Safety is at the helm of all activities carried out at CSMIA. Hence, mock exercises are carried out on regular intervals. CSMIA takes utmost precaution and conducts these simulations to reskill and refine policies in their contingency plans and to work towards the overall betterment of the passenger.