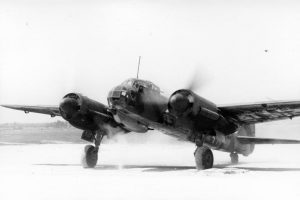 New Delhi. 21 December 2020. The Junkers Ju 88 is a German World War II Luftwaffe twin-engined multirole combat aircraft. Junkers Aircraft and Motor Works (JFM) designed the plane in the mid-1930s as a so-called Schnellbomber ("fast bomber") that would be too fast for fighters of its era to intercept. It suffered from technical problems during its development and early operational periods but became one of the most versatile combat aircraft of the war. Like a number of other Luftwaffe bombers, it served as a bomber, dive bomber, night fighter, torpedo bomber, reconnaissance aircraft, heavy fighter and at the end of the war, as a flying bomb.
Despite a protracted development, it became one of the Luftwaffe's most important aircraft. The assembly line ran constantly from 1936 to 1945 and more than 15,000 Ju 88s were built in dozens of variants, more than any other twin-engine German aircraft of the period. Throughout production the basic structure of the aircraft remained unchanged.
The aircraft's first flight was made by the prototype Ju 88 V1, which bore the civil registration D-AQEN, on 21 December 1936. When it first flew, it managed about 580 km/h (360 mph) and Hermann Göring, head of the Luftwaffe was ecstatic. It was an aircraft that could finally fulfill the promise of the Schnellbomber, a high-speed bomber. The streamlined fuselage was modeled after its contemporary, the Dornier Do 17, but with fewer defensive guns because the belief still held that it could outrun late 1930s-era fighters. The fifth prototype set a 1,000 km (620 mi) closed-circuit record in March 1939, carrying a 2,000 kg (4,400 lb) payload at a speed of 517 km/h (321 mph). Standard Ju 88 main landing gear installation, from the V6 prototype onwards
The first five prototypes had conventionally-operating dual-strut leg rearwards-retracting main gear, but starting with the V6 prototype, a main gear design debuted that twisted the new, single-leg main gear strut through 90° during the retraction sequence, much like that of the American Curtiss P-40 Warhawk fighter. This feature allowed the main wheels to end up above the lower end of the strut when fully retracted and was adopted as standard for all future production Ju 88s, and only minimally modified for the later Ju 188 and 388 developments of it. These single-leg landing gear struts also made use of stacks of conical Belleville washers inside them as their main form of suspension for takeoffs and landings.
By 1938, radical modifications from the first prototype began to produce a "heavy" dive bomber. The wings were strengthened, dive brakes were added, the fuselage was extended and the number of crewmen was increased to four. Due to these advances, the Ju 88 was to enter the war as a medium bomber.