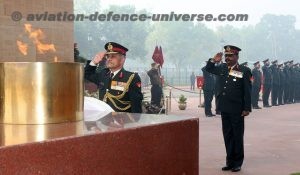 New Delhi. 21 December 2017. The Judge Advocate General's (JAG) Department celebrated its 34th Corps Day on 21 December 2017.  To mark the occasion, a Wreath Laying ceremony was held at the Amar Jawan Jyoti at India Gate. Wreaths were laid by Lt Gen Ashwani Kumar, Adjutant General and Colonel Commandant of JAG Department along with Maj Gen VC Chitravanshi and other serving officers, soldiers and veterans.
The JAG's Department is the judicial and legal wing of the Army which deals with disciplinary cases and litigation. The Department is actively involved in assisting all ranks in observing Human Rights and the rule of law.
The origin and evolution of JAG's Department, is linked with the evolution of Military Law in England and traces its history to British "Article of War-1385".  It was on this day in the year 1949 that the Bill for the enactment of the Army Act was introduced in the Parliament.