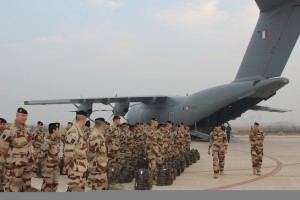 New Delhi. 07 January, 2016. "Shakti – 2016" arrived in Mahajan Field Firing Ranges on 06 January 2016. The French contingent comprising of 56 personnel of 35th Infantry Regiment of 7thArmoured Brigade, is led by Maj Thibaut De Lacoste Lareymondie.The exercise will start on 08th January and terminate on 16th January.
The Indo-French Joint Counter-terrorism Exercise Shakti 2016 is an important step for the Armies to train together and gain from each other's rich operational experience. Both countries have troops deployed in counter-insurgency/ counter-terrorist operations and therefore sharing each other's military experiences will pay meaningful dividends.
2nd Battalion The Garhwal Rifles, part of the Sapta Shakti Command has been nominated for this exercise. The unit has been put through a strenuous training schedule to prepare for the exercise, which includes firing, combat conditioning, tactical operations, heli-borne operations etc. The illustrious selected battalion has varied experience in Counter Insurgency/ Counter Terrorist operations. The unit was bestowed with the prestigious Chief of the Army Staff (COAS) Citation and General Officer Commanding-in-Chief Northern Command Unit Citation for maintaining law and order, keeping terrorism under check and maintaining sanctity of the border in the Northern Theatre.
35th Infantry Regiment's origin dates back to its raising in 1604 at Lorraine (France). The regiment has as many as 12 battle honours to its credit. The battalion has varied combat experiences, having served in Algeria, Africa, Iraq and Afghanistan, amongst other places. The joint exercise will undergo a training schedule aimed at combat conditioning, infantry tactical operations in a counter terrorism environment and planning of joint operations under the United Nations mandate. This exercise will culminate in a tactical exercise encompassing clearing of pockets of terrorists in rural and urban environment.