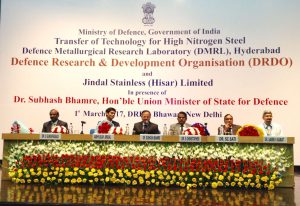 ·

       
Signs Licensing Agreement for TOT of High Nitrogen Steel with DRDO
By Brig VK Atray & Sangeeta Saxena.

02 March 2017

.
Stainless steel giant Jindal Steel now Jindal Stainless (Hisar) has forayed into Defence manufacturing and joined the Make in India bandwagon. It signed the Licensing Agreement for Transfer of Technology of High Nitrogen Steel (HNS) for armour applications with Defence Metallurgical Research Laboratory (DMRL), Hyderabad, a research laboratory of Defence Research and Development Organization (DRDO).
This makes Jindal Steel to be the first company in India to have this technology and will be the first to make this steel. HNS will have its  application in Infantry Combat Vehicles (ICV), Main Battle Tank (MBT), Future Ready Combat Vehicles (FRCV), and Aviation and Naval systems.
Very few countries in the world have developed this technology, which  is not only tough but also has good strength.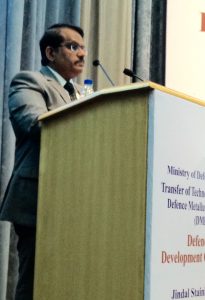 In addition to being non magnetic as well as corrosion resistant, the HNS cost is about 40 percent less compared to Rolled Homogenous Armour Steel (RHA). This material has potential for a number of defence and civil applications like armouring, mine trawls, oil industries etc. JSHL has production facilities including the triplex refining route, which is used for production of HNS.
Speaking on the occasion the Minister of State for Defence, Dr. Subhash Bhamre noted that HNS technology is a step forward towards Army's quest for lighter and high performance armouring material compared to the currently used materials. He said, it has also the potential for a number of civilian applications and for exports as well.
DMRL has developed technology for production of high nitrogen steel (HNS) for armour applications and achieved improved ballistic performance compared to Rolled Homogenous Armour (RHA). The Minister called upon both public as well as private Industries and Ordnance Factories to use this material extensively in their products. "It paves way for development of specific application of HNS in the context of the Army's ongoing and futuristic modernisation programmes," he said.
Chairman DRDO and Secretary DD (R&D) Dr. S Christopher complimented the scientists of DMRL for this achievement which comes as a giant leap forward, towards DRDO's quest for stronger and high performance defence material. He further said that the Transfer of Technology from defence R&D to industry is aligned with the 'Make in India' policy to foster conducive environment for industry's potential growth in the strategic sectors.
Nitrogen steel can be produced in open air and using the conventional melting techniques. It is a nickel free austenitic stainless steel that is used as a structural component in defence applications for manufacturing battle tanks as a replacement of the existing armour grade steel owing to its low cost, excellent mechanical properties and better corrosion resistance.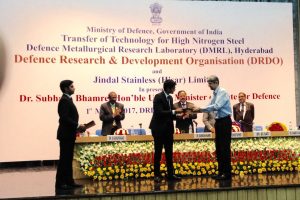 Abhyuday Jindal, Vice Chairman, JSHL said, "  I look forward to collaborate with the Ministry of Defence to achieve greater efficacy of Indian armed forces and take forward its capabilities. JSHL aims to be a major strategic defence partner in manufacturing of HNS." He expects opportunities in defence sector to be in the range of 30,000-40,000 tonnes for a period of 3-4 years. While capacity utilisation currently stands at its peak of 100 percent, Jindal said there are multiple big-ticket investments lined up for the company.
"The use of high-nitrogen steel will replace the existing import of rolled homogeneous armour (RHA), resulting in improved cost efficiency in material acquisition for armour applications by 50 per cent," Jindal said after the pact was signed.
There has always been a demand to reduce the weight of armoured structures used in various ballistic applications. Weight reduction can be achieved by using newer materials having better ballistic performance or by changing the design of armour systems. Traditionally, high strength low alloy steel with tempered martensitic microstructure has been widely used in various armour applications. DRDO and Jindal Steel together shall make  manufacturing history in the defence world.