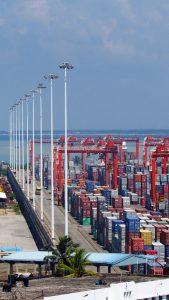 By Jai Kumar Verma
New Delhi. 28 May 2021. The contentious Port City Bill was passed by Sri Lankan Parliament on 20th May 2021. The bill cleared the first Special Economic Zone (SEZ) which consists of 269 hectares of reclaimed land which is contiguous to Colombo, the capital of the country. The SEZ which will be powered by renewable energy, will have mostly services-intensive industries. It is part of Belt and Road Initiative (BRI) which is a global infrastructure development strategy of Chinese President Xi Jinping and was initiated in 2013.
The enactment mentions that Mahinda Rajapaksa the Prime Minister would constitute a special commission which will administer the SEZ. The commission will be empowered to sanction licenses, registrations and to start any type of business in SEZ permission from the commission will be required. The commission would also fix the custom duty, value-added tax (VAT) or any other type of taxation or its exemption. It will also decide about opening of gambling places and casinos. In reality the commission will be empowered to take all decisions about the SEZ. Chinese would be getting concessions which were not given even to Sri Lankan businessmen. The audit and accounts department will not be authorised to do the audit of SEZ, but audit would be done by private auditors hence parliament will have no control over the SEZ. Prime Minister will be authorised to select and dismiss the members of the commission.
The work on Port City SEZ was started when Rajapaksa was the president of Sri Lanka. The Hambantota port, which was leased to China in July 2017 as Sri Lanka could not repay the debt given by China, is in the constituency of Mahinda Rajapaksa. All the businesses in the Colombo Port City would be transacted in recognised foreign currency.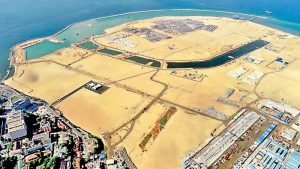 On April 8, the Port City Bill was put forward in Parliament but there was unprecedented opposition to the bill and about 19 petitions were filed in Supreme Court against the bill. The bill which will exempt the SEZ from the local laws was severely criticised by labour unions, civil society, advocates, monks, and opposition parties particularly United National Party (UNP), the Janatha Vimukthi Peramuna (JVP). Anura Kumara Dissanayake an important leader of JVP declared that Sri Lanka will be reduced to a "Chinese province" because of the bill. In the Colombo Port City Sri Lankan laws will not be effective. Former Sri Lankan President Chandrika Bandaranaike Kumaratunga also mentioned that Sri Lanka will become 'colony of China' and the people who resisted Colombo Port's Eastern Container Terminal's (ECT) construction by India and Japan are not hostile to Chinese Colombo Port City.
The petitioners claimed in the supreme court that the provisions of Chinese controlled SEZ are against the Sri Lankan constitution, sovereignty, and labour laws hence it should be declared null and void. The decision of the apex court was put forward before the parliament on 25 May 2021 which declared that on several points either the bill required to be passed by a two-thirds majority or it needed referendum. It also mentioned that if requisite amendments are made in the clauses which are contrary to the constitution the bill can be passed by simple majority in parliament.
The opposition wanted three days debate in parliament, but government allowed two days debate and afterwards the bill was amended in consultation with supreme court and was passed by majority vote.
President Gotabaya Rajapaksha while defending the bill stated in the parliament that the Port City Project would generate more than 200,000 jobs in five years and most of these jobs will be given to Sri Lankans. He also claimed that the Colombo Port City would attract foreign direct investment as it will become a big financial and services centre in South Asia.
Yamuna Jayaratne Colombo Port City Director of Sales and Marketing stated that so far Sri Lanka has not exploited its geographical and locational advantages which are more than Dubai and Hong Kong which already emerged as financial services hubs.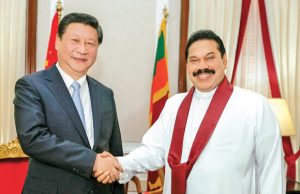 The bill was defended by several politicians of the ruling party including Minister of Higher Education and Cultural Affairs Wijeyadasa Rajapksa, Agriculture Minister Mahindananda Aluthugame as well as by former Central Bank Governor Ajith Nivard Cabraal. They mentioned that Colombo Port City will be very useful for the country and it will create large number of jobs and SEZ is under the security cover of Sri Lankan police and security forces. They also claimed that several persons are criticising the project on behest of foreign powers.
This seems to be a continuation of Hambantota Port which was taken by China on a 99-year lease for $ 1.2 billion. China lays debt trap through massive infrastructure loan which the developing countries fail to repay. On the other hand, India because of destructive second wave of Covid-19 had to downturn its assistance to Sri Lanka. New Delhi also had to defer its 'Vaccine-Maitri' because of shortage of vaccines in the country. India is concerned as Port City of Colombo will become an overseas colony of China and its influence would be enhanced manifold. Beijing has increased its efforts of encircling India after it became member of 'Quad' and the Chinese People's Liberation Army (PLA) and Indian army are not only facing each other but also involved in battles in eastern Ladakh and other places.
Sri Lanka on behest of China cancelled a trilateral deal between India Japan and Sri Lanka to develop the East Container Terminal of the Colombo Port. The present government changed the terms and conditions of the U.S. investment of $ 450 million in Sri Lanka. The present government has also annulled an agreement with Indian Oil Corporation. Although India gave a $400-million currency swap to island nation but the talks for another $ 1 billion currency swap agreement could not be materialised.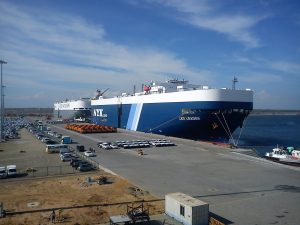 Sri Lanka watchers claim that at present because of Covid 19 pandemic the economic condition of Sri Lanka is considerably deteriorated hence President Gotabaya who has close relations with China wants to improve it through Chinese investment. President Xi Jinping wants to increase Chinese influence in the area is taking advantage of the situation.
China is also making headway in the areas of Indian dominance including rubber, tea, and coconut plantation with malafide intention of striking out India. Chinese are also constructed 40,000 houses in Jaffna district which is a Tamil dominated area. Gotabaya, also feels that in case Tamil insurgency develops again it can be suppressed with Chinese assistance.
Both countries have defence relationship also and China supplied different types of arms and ammunition to the island nation. Sri Lanka got anti-tank guided missiles, shoulder-fired surface-to-air missiles, rocket launchers, radars, and different types of communication equipment from China. China is not only training Sri Lankan defence personnel but also modernising its armed forces. In 2019 Sri Lankan ambassador in UN also signed a joint letter with other countries and sent it to The United Nations Human Rights Council (UNHRC) shielding Chinese atrocities on Uyghur Muslims.
India is genuinely concerned because of increasing Chinese influence in the region. Hambantota and Colombo are less than 300 miles from India. Pakistan is under full influence of China and after the coup in Myanmar and imposition of sanctions by several countries Chinese influence has increased multiple times in the country. The present Oli government in Nepal is getting full support from China and Prime Minister Oli has already acted against Indian interests and issued several anti-India statements. Although Bangladesh Prime Minister Sheikh Hasina has cordial relations with India, but she is also leaning towards Beijing. Recently Chinese ambassador in Bangladesh warned Dacca that it should not join US led Quad alliance as it would damage to the bilateral relations of both the countries.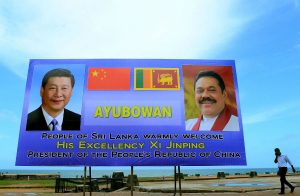 In view of Chinese aggressive stratagem Indian strategist has to plan a long-term strategy although it is difficult to counter China which has deep pockets. Chinese economy is approximately five times larger than India and more or less no vibrant opposition in the country. Indian diplomatic missions in the neighbouring countries should try to convince the masses that China is an expansionist country, and it would grab their areas. The diplomatic missions in other countries should also put Indian viewpoints more forcefully. Quad is a good initiative and there are several countries including U.S., Japan, Vietnam, Australia, Germany, U.K., Canada, Sweden, Norway, and others which are under pressure because of phenomenal economic rise of China. The democratic countries also condemn China for human right violations. India can try to be friendly with them although the help from these countries will be extremely limited. India is also concerned as China is encircling India by increasing its influence in Sri Lanka, Pakistan, Tibet, Myanmar, Bangladesh, and Nepal.
(Jai Kumar Verma is a Delhi-based strategic analyst and member of United Services Institute of India and Institute for Defence Studies and Analyses. The views in the article are solely the author's. He can be contacted at editor.adu@gmail.com)