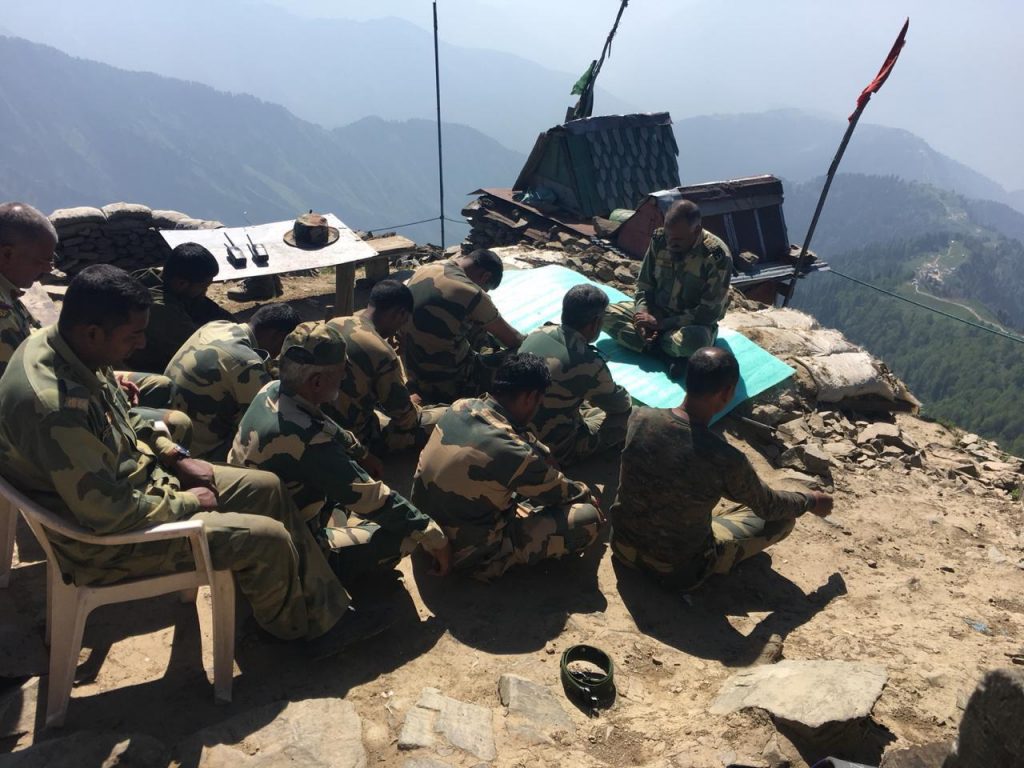 Is meditation the answer to keeping peacekeepers stress free?
Do militaries and paramilitary forces need to incorporate meditation in their training programmes?
Heartfulness meditation has paved the way to but how can it be taken forward?
By Sangeeta Saxena
New Delhi. 20 September 2020. In the world of 2020 where COVID-19 has created a havoc globally, put the planet into a turmoil and has reminded the human race that in a world which is a global village what happens in one part can impact people everywhere, nations are on an one upmanship drive, conflict zones are multiplying by leaps, borders have become volatile and hostilities between countries evident. In such a scenario peace becomes the most sought after need and peacekeepers the most stressed out community.
"It isn't enough to talk about peace. One must believe in it. And it isn't enough to believe in it. One must work at it," said Eleanor Roosevelt more than seven decades ago and her belief is valid even today. But this cannot be done in isolation. It needs the humanity to come together to create a peaceful world for our future generations to live in.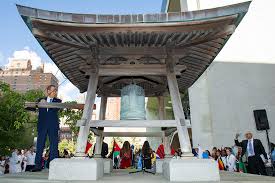 So the United Nations which is also the peacekeeper of the world established in 1981 by a unanimous resolution, the International Day of Peace ("Peace Day") which is observed around the world each year on 21 September. To inaugurate the day, the United Nations Peace Bell is rung at UN Headquarters (in New York City). The bell is cast from coins donated by children from all continents except Africa, and was a gift from the United Nations Association of Japan, as "a reminder of the human cost of war"; the inscription on its side reads, "Long live absolute world peace". Which nation would understand the price humanity pays for war better than Japan and who would understand the pain of war more than the Japanese!
Wars begin in the minds of men and the world today is at its lowest ebb of peace. The armies, navies and airforces globally are preparing for war, as offence and defence are the strategies nations have taken to maintain tranquility on their borders. In the environment of low intensity conflict the security forces are also neck deep in keeping their countries and citizens safe from the geopolitical ailments of terrorism and non-state interference. And these duties both on and off combat zones keep our soldiers in perpectual stress. And there seems to be one and only one weapon which will keep them at peace with self and prepare them for their tough tasks, which is meditation.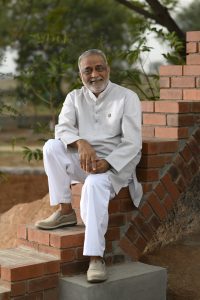 Kamlesh D Patel (Daaji), Guide of Heartfulness meditation in an exclusive chat with Aviation & Defence Universe stated, "the frontline warriors of this nation carry great burden for which we are all grateful. The dangers of their jobs are well known and among each unit, teamwork is indispensable. Their lives and their success depend on their ability to act as one. When team members meditate together, it creates greater brotherhood between them. Through meditation, they are all connected at a subconscious level and communication is greatly enhanced. The practice of meditation also ensures that they each receive guidance from within themselves. What to do next; what not to do next; this knowledge comes automatically. Meditation also enhances their situational alertness. They notice things that they might otherwise have missed, and this is invaluable in dangerous situations. Finally, meditation reinforces the duty-consciousness that already drives them and allows them to put up with so many adverse circumstances, including the loneliness of being far from home."
He added that over the years, Heartfulness has been conducting sessions across all wings of Indian armed forces. "It has been done at frontline locations, at base camps, and training centres, and for the soldiers' families, too. The effectiveness of Heartfulness has been acknowledged by the forces and they continue to practise this meditation. The knowledge that Heartfulness is an effective tool to handle this high-pressure job is spreading widely."
What was a pleasant surprise was the fact that till date, Heartfulness offerings have been utilized by the Central and State Security forces, the Defence Services—Army, Air Force, Navy, and CAPF, including CRPF, ITBP, CISF, RPF, BSF, and NSG—State Police Forces and Police Training Institutes, Home guards, and Gujarat Railway Police. "We have conducted sessions for the Air Force at Srinagar, Gwalior, Bareilly, Lucknow, Leh and Bengaluru; for the Army in Jaipur, Dehra Dun, Roorkee, Srinagar, Kargil, Karu and Leh; and for the Navy in Cochin and Visakhapatnam. Similar programs have been held at the training workshop in CISF, RTC, Arakkonam, TN, in which more than 800 cadets, staff and families (including 100 from the NDRF) benefitted; TN Special Police 2nd and 5th Battalion in Avadi; BSF HQs, NSG at Manesar and Tambaram, SSB at Ghitorni, GREF at Kargil and Leh, and other Military establishments. Sessions have also been conducted in various training and other establishments of the CRPF across the country including Neemuch, Srinagar, Ambikapur, Delhi, and Raipur," informed Daaji.
The strength of a force is directly proportional to the resilence of its soldiers and meditation helps them to develop it. Meditation is also a stress buster for these men in uniform who stay away from their families for long spans.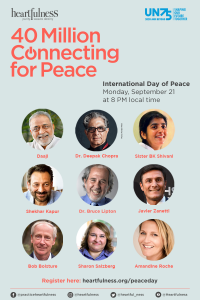 Leaders in Peace Building, Science, Mindfulness and Spirituality
will transmit the experience of Peace to 40 Million People across the Globe on 21 September to commemorate the World Peace Day. Heartfulness Institute in partnership with United Nations Information Centre, Global Citizens India, Give India, Spirit of Humanity Forum, the Fetzer Institute, Sewa International, Gandhi Foundation and many more, will bring humanity together through a guided meditation session to experience and promote peace.
Shekhar Kapur, noted director and actor, will steer the conversations between the renowned proponents of inner peace, including Daaji, Javier Zanetti, Deepak Chopra, BK Sister Shivani, Sharon Salzberg, as well as Bruce Lipton, Amandine Roche, Bob Boisture, Thomas d'Ansembourg, Marta Bassino and Michela Moioli. Renowned musicians who have volunteered their time for peace, will also be part of the event.