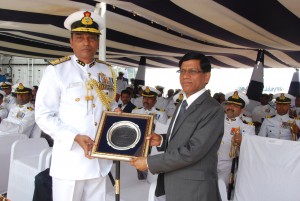 Goa. 12 April 2016. Post 26/11, the Indian Coast Guard is on the pursuit of augmenting its surveillance effectively. The present force level and manpower are planned to be doubled by graduated procurement, with proportionate infrastructure development and augmentation of trained manpower. More Coast Guard surface platforms and aircraft are planned to be inducted in next few years and will be based at Goa depending upon the infrastructure and availability of operational logistic support facilities.
The Interceptor Boat C-158 has been built by M/s Bharati Shipyard Ltd, Goa. It is 27.64 mtrs in length, with displacement of 107 tons and the max speed of 35 knots.  The IB is capable of undertaking multifarious task such as surveillance, interdiction, search & rescue and rendering assistance to boats and craft in distress at sea. The IB is also capable of operating in shallow water as well as in deep seas. The boat is provided with advanced navigational and communication equipment for safe navigation.The nimbleness and quick reaction ability coupled with the latest and modern equipment and systems provides her the capability to respond to any maritime situation off Goa with alacrity.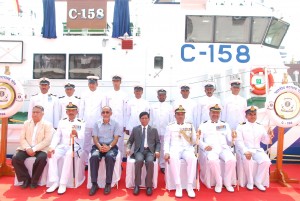 The ship on joining Coast Guard Fleet will be based at Goa and deployed extensively for the close coast surveillance and other duties as enshrined in Coast Guard Charter, to safeguard the maritime interests of India. Presently, Indian Coast Guard has a Fleet of 120 Ships/boats, further 71 Ships/boats are at various stages of construction at different shipyards. The Interceptor Boat is commanded by Asst Comdt Vivek Kumar and has a crew complement of 01 Officer and 12 Enrolled Personnel.
Indian Coast Guard Interceptor Boat C-158 was commissioned by RK Srivastava, IAS, Chief Secretary to Government of Goa in the presence of Inspector General K Natarajan, PTM, TM Commander, Coast Guard Region (West) and other senior dignitaries of the Central and State Government.