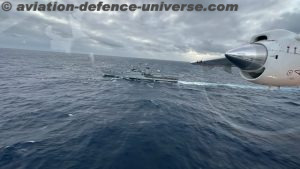 New Delhi. 18 September 2023. INS Sharda, Indian Navy's Offshore Patrol Vessel visited to Port Louis, Mauritius 13 – 15 Sep 23. Prior entering Port Louis the ship had  carried out joint EEZ surveillance with Mauritius National Coast Guard (MNCG). On arrival, the ship was accorded warm welcome by the Mauritius Coast Guard Dornier and Mauritian Police Force Band. During the visit, the ship engaged in several professional interactions and cross training visits. A guided tour of the ship was provided to MNCG personnel who were familiarised with ship's role and capabilities.
During the ship's stay, personnel from Indian Navy and MNCG were engaged in professional and training interactions and deck visits. The ship conducted lecture cum training sessions on various aspects of firefighting, damage control and small arms handling. A combined yoga was organised onboard ship with the MNCG personnel.
The Commanding Officer, INS Sharda, Cdr Navin Renj called on Mrs K Nandini Singla, High Commissioner of India to Mauritius and paid courtesy call to Commissioner of Mauritius Police Force.
On departure, on 15 Sep, INS Sharda undertook joint EEZ surveillance with Mauritius National Coast Guard (MNCG) units enhancing maritime cooperation between the two countries.
The extant visit reaffirms Indian Navy's commitment to the Hon'ble Prime Minister's vision of 'Security and Growth for All in the Region' (SAGAR).