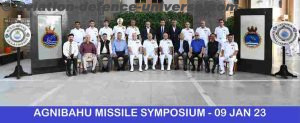 New Delhi. 10 January 2022. INS Agnibahu, the administrative and logistic base for the 22nd Missile Vessel Squadron (22nd MVS), celebrated its Golden Jubilee on 09 January 23 with a host of events spread over two days including a symposium on "Ensuring Future Readiness in Surface-to-Surface Missile Warfare". The Chief Guest for the symposium was Vice Admiral Ajendra Bahadur Singh, PVSM, AVSM, VSM, ADC, Flag Officer Commanding-in-Chief, Western Naval Command and Guest of Honour was Vice Admiral RB Pandit, AVSM, Commander-in-Chief Strategic Forces Command. A host of other dignitaries, including distinguished veterans and ex-Commanding Officers of INS Agnibahu, also attended the event. The symposium covered aspects of modern missile warfare including lessons learnt from recent conflicts across the globe.
The name "Agnibahu" means "Arm of Fire". The unit was commissioned in January 1973 and was initially tasked to provide support to the 25th Missile Vessel Squadron, boats that had the distinction of conducting the daring attack on Karachi in the 1971 War. With the induction of the newer 1241 RE class of ships in 1987, the 22nd MVS was raised at Mumbai. Over the years, the unit has distinguished itself in providing excellent administrative, logistic and accommodation support to these vessels while remaining true to its motto "Always and Forever". It has grown multifold in size and operational responsibility in this period, and has provided operational support to both the Missile Squadrons during various operations including Glow Worm, Falcon, Pustak, Suraksha, Gemini, Pawan and Cactus.
Participation of many ex-Commanding Officers from across India in the Golden Jubilee is a fitting tribute to the strong personal bonds and traditional values this fine unit represents. INS Agnibahu continues to remain the punch behind the First Strike capability of the 22nd MVS and stands steadfast and committed to fulfilling this mandate with elan and excellence.