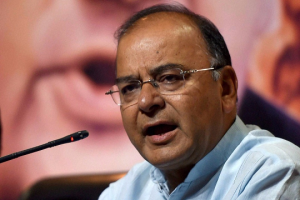 New Delhi. 11 May 2017. Minister of Defence, Finance and Corporate Affairs Arun Jaitley, accompanied by senior MoD officials, held consultations with representatives of chambers of commerce and industry on the proposed Strategic Partnership model .
The Ministry is working towards institutionalising a transparent, objective and functional mechanism to encourage broader participation of the private sector in defence manufacturing under the 'Make in India' framework.
The proposed strategic partner model is intended to enhance competition, increase efficiencies, facilitate faster and more significant absorption of technology, create a tiered industrial ecosystem, ensure development of a wider skill base, trigger innovation and enable participation in global value chains as well as promote exports. This would gradually ensure greater self-reliance and dependability of supplies essential to meet national security objectives.
Industry representatives welcomed efforts of the Ministry to put in place such a framework and offered several positive and constructive suggestions. The Ministry has taken due note of these proposals, which would be considered while finalising the policy in this regard.