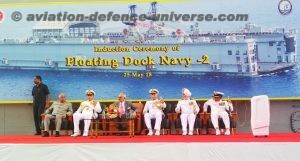 Port Blair. 25 May 2018. The indigenously designed and constructed FDN-2 (Floating Dock Navy) was inducted into the Indian Navy on 25 May 2018 at Port Blair by Lieutenant Governor, Andaman & Nicobar Admiral DK Joshi, PVSM, AVSM, YSM, VSM, NM (Retd).
The induction ceremony was conducted as per naval traditions and was witnessed by senior officers from the Army, Air Force, Navy and Coast Guard.
The FDN-2 is equipped with state of art automated systems with all modern facilities to ensure quality and swift repairs of warships. The dock has the capability to lift ships up to 8000 tonnes including frigates and destroyers of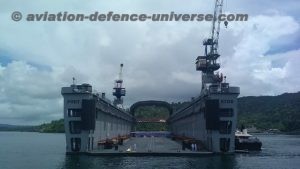 the Indian Navy. The floating dock is designed for berthing alongside a jetty, or moored in calm waters enabling planned and emergency docking operations for ships. Induction of FDN-2 will substantially enhance the repair and refit facility for the naval warships based in the Andaman and Nicobar Islands.