The collaboration will ensure that India's defence and security forces have access to cutting-edge technology within the country, to protect against evolving threats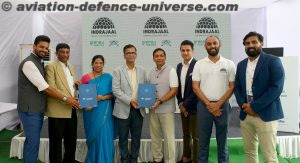 Hyderabad. 25 September 2023. Indrajaal, the world's only autonomous wide area anti-drone/Counter-Unmanned Aircraft Solutions firm announces a strategic manufacturing partnership with Sigma Advanced Systems (SAS), a leading defence technology manufacturer based out of Hyderabad. By joining forces with Sigma Advanced Systems, Indrajaal takes a significant step towards bolstering the indigenous manufacturing of anti-drone defence systems in India.
Indrajaal is renowned for its groundbreaking advancement in defence technology in countering all classifications of drone threats, providing comprehensive solutions to a range of industries, including defence, critical infrastructure, and public safety. Under the collaboration, Sigma will be responsible for indigenously manufacturing critical hardware systems for Indrajaal's state-of-the-art drone countermeasures.
(L to R) Sunil Kumar, Dhamodhar Reddy, Rekha Valluri, Sanjay Pukalay, Sai Mallela, Vamsi Vellanki, Varu Valluri & Kiran Raju
Commenting on the partnership, Mr. Kiran Raju, Co-Founder of Indrajaal said, "We are thrilled to embark on this journey with Sigma that provides world-class products and services for National and International Defence & Aerospace Industry. Their expertise in manufacturing aligns perfectly with our commitment to delivering high-quality, indigenous counter-drone solutions. This partnership reinforces our dedication to bolstering India's security infrastructure."
According to a recent report, the global anti-drone is projected to increase from USD 1.47 billion by 2023 to USD 3.8 billion by 2027, driven by a robust 24.41% annual growth rate from 2023-2027.
Mr Damodar Reddy, Founder of Sigma Advanced Systems said, "Bringing over 30 years of manufacturing defence and aerospace products and services expertise to Indrajaal is a proud moment for us." He further added, "India's defence and aerospace solutions are all about cutting-edge technology, precision, and unwavering quality. This partnership with Indrajaal reinstates our support in the initiatives Atmanirbhar Bharat and Make in India. With this partnership, we're focused on strengthening our nation's defence capabilities by indigenously manufacturing essential hardware and software systems."
The collaboration underscores the growing importance of homegrown solutions while addressing the emerging security challenges posed by drones. The partnership between Indrajaal and Sigma Advanced Systems will ensure that India's defence and security forces have access to cutting-edge technology, produced within the country, to protect against evolving threats