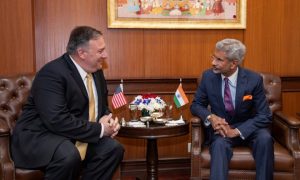 Mike Pompeo & S Jaishankar brainstorm regional stability
By Sangeeta Saxena
New Delhi. 26 June 2019. "I truly believe that our two nations have an incredibly unique opportunity to move forward together, for the good of both of our peoples, the Indo-Pacific region, and indeed the entire world, " said U.S. Secretary of State Mike Pompeo who was in India to discuss the ambitious shared agenda for the U.S.-India strategic partnership and the future of the relationship and opportunities for cooperation on global issues of shared concern.
The United States granted India Strategic Trade Authorization tier 1 status last year, allowing India to enjoy the same license-free access to certain defense articles as NATO allies, Japan, South Korea, and Australia. This status also creates greater supply chain efficiency and supports U.S. industry and investment.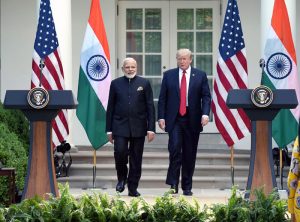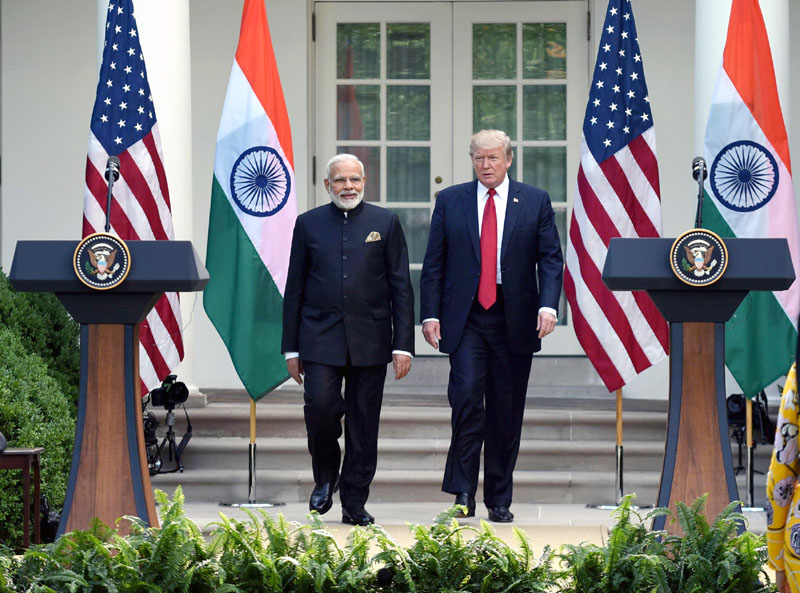 Speaking optimistically he reiterated that President Trump and Prime Minister Modi are firmly committed to accelerating the upward trajectory of this partnership and Prime Minister Modi's sweeping mandate in the recent elections creates a unique opportunity to realize this vision.
The two nations have elevated the level of strategic interaction between themselves through the annual 2+2 Ministerial Dialogue. The first of this was held in September 2018 and culminated in the announcement of a new tri-service exercise and the signing of a secure communications agreement that will enable India to operationalize its status as a Major Defense Partner. The next 2+2 is expected in late 2019 in Washington, DC. US defense sales to India are estimated to reach approximately $18 billion by 2019 from near zero in 2008, boosting India's national security capabilities and increasing employment in both countries.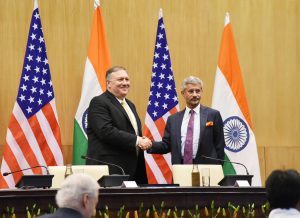 Indian Minister for External Affairs S Jaishankar stressed that India and the United States have a strategic partnership, and that is actually based on deep and broad convergences, which have been steadily growing over the last many years and now, both of us are guided by the big picture of the relationship.
"We had a discussion on our defense cooperation. That, again, has been a very encouraging story over the last decade or more. Today, we operate a number of American-origin platforms and other equipment. And the key point here is that if that is to continue to grow, it's important that we display trust and confidence in each other. There's been a steady appreciation, a steady liberalization of American laws and regulations pertaining to defense and high technology, and that's something, again, I would thank Secretary Pompeo and the administration," he added.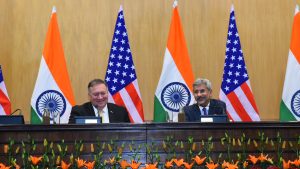 While discussing a number of bilateral and global issues India took the opportunity to express its appreciation for the strong support it has received from the Trump administration on combating terrorism. "What we see is really zero tolerance for cross-border terrorism. We have, of course, prime minister's initiative for a global conference on terrorism, and I'm sure that's something the U.S. would look at positively," the Minister said.
Pompeo reiterated that the United States is committed to ensuring that India has the military capabilities it needs to uphold its territorial integrity and to confront 21st-century challenges. Completing the various military agreements we have already agreed to will help us hit that goal, and the United States is pursuing a range of efforts to meet President Trump's commitment to shared defense equipment and technology with India, as we do with our closest partners.
"India's own experience with terrorism is very real; we know that. As the blasts that ripped through the Sri Lankan churches last Easter Sunday have shown, terrorism is a constant in this region, and India's ability to fight it should be second to none. Our teams will continue to work together to improve information sharing, intelligence sharing, and strengthen India's ability to fight terrorism. And on that subject, I just came, as the foreign minister said, from Kabul. The core of America's Afghanistan talks is a resolve that terrorists can never again exploit Afghanistan for their evil purposes. We are intensely grateful for India's advice and support to ensure that we are successful in this endeavour," he stated.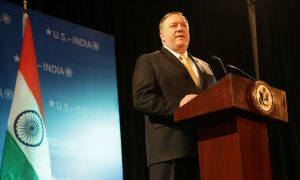 Addressing a select audience in the evening hosted by the US Ambassador to India Pompeo said, "many of you may not know this, but I had the chance to come here a number of times on business. I was able to bring my wife Susan here with a number – on a number of the trips. She and I had the opportunity to visit Bangalore and Chennai and Hyderabad. It's many years ago. It was when I ran a small business that made airplane parts. We were struck on that visit – such entrepreneurship, such energy, great people, and enormous expectations for a brighter future for this country."
He appreciated the support India gave to the global campaign of pressure and diplomacy with North Korea, to encourage Chairman Kim to go back to the bargaining table, and ultimately, to achieve the final, fully verified denuclearization of the Korean Peninsula. " You've joined America, too, for regular meetings between our top defense and diplomatic leaders. Your navy recently joined ours, alongside those of Japan and the Philippines, for a group sail for the first time in the South China Sea. There, we were able to reinforce our partnership and the freedom of navigation throughout international waterways. Recently, too, India voted against giving the United Nations observer status to a Palestinian NGO tied to terror group Hamas, because rewarding terror groups is just wrong. Both India and America know that. You've contributed, too, $3 billion in fact, in assistance to Afghanistan, where we'll keep working to achieve a better future for the Afghan people, and we will make sure the country never again becomes a hive for terrorist evil," Pompeo said.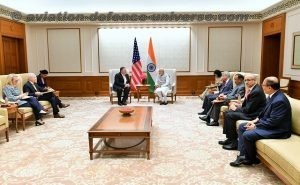 He informed that the Indian army instructors joined theirs earlier just this month here in New Delhi to train African peacekeepers so they can better defend themselves. "India more and more is standing on the world stage, and we welcome your assertiveness, because it's good for the world. It's why we have for years supported your permanent seat on the UN Security Council. We've seen what's possible when we work together for the common good all around the world. I think, too, it's the moment to think in a different way, to think even bigger. It's time for a more ambitious age," he said positively.
"Let's start with counterterrorism. Just a few weeks ago, Prime Minister Modi called for all nations to band together to fight terrorism, a message that aligns with what President Trump told the world leaders two years ago in Riyadh, on his first international visit. We were pleased to see the United Nations Sanctions Committee designate Masood Azhar last month. And from Kandahar to Sri Lanka and beyond, this fight will continue. Our work together must continue. Can we work even more closely to thwart terrorism that afflicts South Central Asia," he questioned.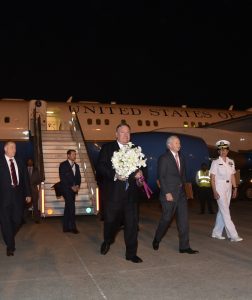 "Then there's our shared vision for a free and open Indo-Pacific region – a vision which we arrived at independently, but which today we pursue together. We both seek to uphold national sovereignty, the rule of law, transparency, good government, and basic freedoms. And we look forward to working with you in the western Indian Ocean, alongside countries such as France. Later this year, for the first time ever, the U.S. military will participate in a tri-service exercise with their Indian counterparts. We respect your sovereignty, and seek a true partnership. Can we have a more robust defense relationship grounded in interoperability, with common platforms, shared doctrines, and new technologies? Today 60 percent of global maritime trade transits through the Indo-Pacific. In past weeks, the Islamic Republic of Iran has attacked tankers from Japan, Norway, Saudi Arabia, and the United Arab Emirates. In recent years, China has sought dominance in the South China Sea. Can America and India strategize more comprehensively on how to safeguard free and open seaways all throughout the world," he questioned again.
With a Secretary of State has experience in the military, in the Intelligence Community, as a grassroots politician, as an entrepreneur and businessman in aerospace and as a lawyer who can combine all of that with persuasive analysis and communication with a career diplomat in his Indian counterpart S Jaishankar, India-US strategic relationship does seem to be on the right track.