India's Neighbourhood First Policy gets reciprocated from Nepal
 By Jai Kumar Verma
 New Delhi. 09 June 2023. Love thy neighbour is a dictum diplomacy borrowed from mythology. India's Neighbourhood First Policy believes in assisting neighbours without mala fide intentions. The relationship between India and Nepal is not only age old but also close and strong. And as the Himalayan nation is trying to recover from multiple economic problems including unemployment, rising inflation and downfall of industrial production, India is standing tough and tall next to it, like a friend in need.
Pushpa Kamal Dahal, alias Prachanda, the 3rd time Prime Minister of Nepal, was on a four-day visit to India beginning from 31 May 2023. It was the fourth time Prachanda came to India as Prime Minister. It is a giant leap for a former Maoist guerrilla leader, presently protruding a pro-business image of his government.
Nepali President Ram Chandra Poudel signed contentious amendment to Nepal's citizenship law few hours before the visit of Prime Minister Prachanda to India commenced. The amendment grants immediate citizenship to foreign women married to Nepalis. China is against the amendment as now Tibetan refugees' descendants would get citizenship and property rights as many Tibetan women have married Nepalese men. It will benefit Indian also who are residents of Uttarakhand, Bihar, West Bengal and Eastern Uttar Pradesh.
Prachanda led a large delegation of more than 80 persons, including diplomats and businessmen, Finance Minister, Foreign Minister, and his daughter Ganga Dahal. The visiting Prime Minister stated at a function organised by Nepalese Embassy in Delhi that "Nepal had suffered economically during the global epidemic like many other countries. But there has been gradual improvement in the economic condition in Nepal since my government has taken charge. Our foreign currency reserve has increased and foreign remittances from Nepalese citizens living abroad has also increased. Our exchanges with India in the fields of employment and investment will be my focus during the visit".
The meeting between Indian Prime Minister Modi and his Nepalese counterpart at Hyderabad House, discussed wide range of subjects of bilateral interests including energy, trade, security, political and developmental cooperation, which culminated into the signing of seven agreements including long-term power trade under which it was agreed that India will purchase 10000 MW Power from Nepal in 10 years. India would also take mutually- beneficial investments in Nepal so that its production and transmission of hydropower generation and distribution improves. Both the Prime Ministers jointly accomplished the ground-breaking of Gorakhpur-Butwal transmission line of 400 KV. Memorandum of Understanding (MOUs) were signed about the development of Phukot-Karnali project of 480 MW.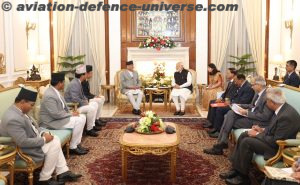 The Government of India also agreed for trilateral power transaction from Nepal to Bangladesh, as Nepal and Bangladesh do not share the borders hence India provided the grid so that Nepal can export power up to 40 MW to Bangladesh. Both sides agreed on the establishment of Integrated Check Posts (ICPs) at Rupaidiha (India) and Nepalgunj (Nepal) and Sonoli (India) and Bhairahwa (Nepal) which would enhance the connectivity between both the countries and accelerate the people to people contact.
The pipeline was inaugurated in September 2019. A MOU was also inked for a new pipeline between Siliguri and Jhapa. Both sides also agreed to enhance the digital financial connectivity and an MOU was signed between both the countries.
India also agreed to construct a ground station and services of South Asia Satellite to Nepal. It would enhance cooperation between both the countries on space technology. India also agreed to give access to India's waterways to landlocked Nepal.
Prime Minister Prachanda also called on Indian President and Vice President. National Security Advisor Ajit Doval called on the visiting Prime Minister. The visiting Prime Minister also visited Indore and Ujjain on 2nd June. These visits indicate the deep religious and cultural ties between both the countries.
The visiting Prime Minister also wanted to increase exports to India as the trade deficit with India is about Rs.582.58 billion. Besides agreements there were some disagreements also. Nepalese delegation wanted some relaxations on India's Agniveers policy for the Gorkha soldiers of Nepal. They wanted that pension should continue after retirement, but Indian side made it clear that India cannot offer different rules for Indian and Nepali soldiers.
Nepal claims Indian territory in Kalapani which is part of Indian state of Uttarakhand. The discussions were held and both sides agreed to resolve the issue amicably as joint boundary working group is already working to resolve the issue.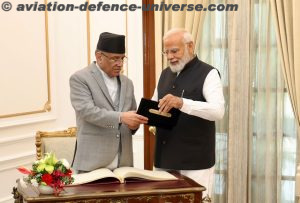 Prime Minister Prachanda also wanted that Delhi should allow additional routes for aircraft to fly from new international airports constructed by China in Pokhara and Bhairwah. Chinese constructed Pokhara International Airport which is second largest in the country and the operation commenced from 1 January 2023. Gautam Buddha International Airport Bhairahawa is very near to Indian border. The $ 76 million airport was constructed by Chinese company while it was funded by Asian Development Bank and OPEC Fund for International Development. The airport was inaugurated in May 2022. However, both these airports could not produce the desired result and no carrier is undertaking any international flight hence these airports are economically not worthwhile. The international flights are not operating as there are no cross-border air routes between India and Nepal. Kathmandu is pressing India to provide cross-border routes. Although at present India has not given the permission but soon India would provide cross-border air routes to Nepal as India do not want that these airports become uneconomical. In case these airports become redundant Beijing would take over these airports as it took Hambantota Port in Sri Lanka.
China which has deep pockets, trap the developing countries in its debt trap. Beijing has signed several MOUs with Kathmandu to develop infrastructure projects, but the terms and conditions of the contract are highly against the interests of Nepal. Chinese company constructed Pokhara International Airport at the cost of US $215 million after taking loan from Chinese EXIM Bank at the interest of two percent which is much higher. World Bank and Asian Development Bank (ADB) charge less than one percent. Not only these, but other multilateral institutions also give much higher payback term in comparison to Chinese banks. Same way China which is the largest creditor to Nepal gave loan to Nepal for development of several infrastructure projects on very stringent terms. It would be difficult for Nepal to repay these loans.
It appears that Prachanda and other Nepali politicians have realised that Nepal has fallen in debt trap of China hence they should be careful and try to mend fences with India. Nepal should try to come out from debt trap of China. It should try to branch out its sources of taking loan. It should also try to renegotiate loan terms with China and should stress on transparency in loan terms. In nutshell the present visit of Prime Minister Prachanda is successful, and leaders and analysts of Nepal and India are satisfied.
(Jai Kumar Verma is a Delhi-based strategic analyst and member of United Services Institute of India and Manohar Parrikar Institute for Defence Studies and Analyses. The views in the article are solely the authors. He can be contacted at editor.adu@gmail.com)