Will India win its round of Chinese Checker as a SCO member?
PM meets President Xi Jinping of China on the sidelines of the SCO Meeting in Tashkent
By Brig.VK Atray and Sangeeta Saxena
New Delhi. 24 June 2016. Is India all set to win this round of Chinese Checkers? When on July 10 2015 India and Pakistan both got an entry into the Shanghai Cooperation Organization and attended the Summit at Ufa in Russia, the question which arose was- does the conflict between India and Pakistan shift to a new platform- keeping in mind that the relationship between the two countries have always had a Central Asian dimension of support.
Russia supported India's entry into the SCO as a balancer against the weight of China and China agreed to the accession of India and Pakistan precisely because the SCO is being transformed from a tool for achieving pragmatic goals — namely the expansion of economic and cultural influence in Central Asia with Russian approval — into a symbolic organization.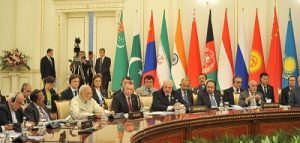 Precisely a year and in the SCO summit of 2016, Prime Minister Narendra Modi met President Xi Jinping of China on the sidelines of Shanghai Cooperation Organization Summit . President Xi welcomed India's accession to the SCO and said it would strengthen it. Prime Minister Modi thanked President Xi for China's support to India's membership of the SCO. Prime Minister Modi then spoke of the NSG Plenary Meeting in Seoul which is to discuss India's membership of the NSG. The Prime Minister urged China to make a fair and objective assessment of India's application and judge it on its own merit. He said China should contribute to the emerging consensus in Seoul.
Islamabad's interest is no less than India's in the region. India's interest in the region has military overtones, too. A major dispute erupted a few years back over the Ayni Air Force Base in Tajikistan, the reconstruction of which was financed by Indian loans. India clearly views Central Asia as a strategic clamp with which to exert pressure on Pakistan from the rear should the situation on the Indian-Pakistani border flare up.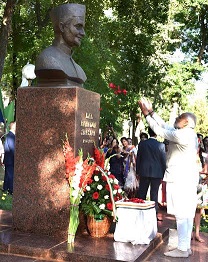 "India's membership of SCO would contribute to region's prosperity. It would also strengthen its security. Our partnership will protect our societies from the threats of radical ideologies of hate, violence and terror. India will unite with SCO countries to work towards this goal. And, we will adopt zero tolerance and a comprehensive approach in fighting terrorism at all levels. With the same goal in sight, a stable, independent and peaceful Afghanistan is not just a sincere desire of each Afghan. It is also necessary for greater security and stability in the SCO region," reiterated Modi at the summit.
But does this membership have a geopolitical repercussion in the region and will it mean much to India? And the answer is not in the short term but surely as a long term perspective.
The benefit for India is both Indian and Pakistani leadership will now have to encounter each other at least once a year, away from the glare of the annual September UN General Assembly meeting, thus giving the two rival powers an opportunity to interact. RATS the Regional Anti-Terrorism Structure center in Tashkent which is really just a repository of information of proscribed individuals – and organizing large-scale joint military exercises under the rubric of counter-terrorism, may bring some new levels of intelligence sharing, as well as help the others develop counter-terrorism strategies based on India's long experience of it. But one off shoot of this membership could be a new push by China to be admitted into SAARC.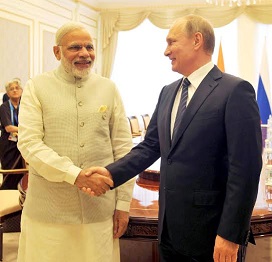 Prior to his departure PM said, "I will travel to Uzbekistan for a brief visit to attend the SCO Summit and interact with leaders of SCO nations. India is glad to be a member of the SCO and looks forward to fruitful outcomes particularly in the field of economic cooperation through SCO. India attaches great importance to ties with Central Asia and always seeks to expand economic and people-to-people ties with the region."
The Shanghai Cooperation Organisation (SCO) is a Eurasian political, economic, and military organisation which was founded in 2001 in Shanghai by the leaders of China, Kazakhstan, Kyrgyzstan, Russia, Tajikistan, and Uzbekistan. These countries, except for Uzbekistan had been members of the Shanghai Five, founded in 1996; after the inclusion of Uzbekistan in 2001, the members renamed the organisation. On July 10, 2015, the SCO decided to admit India and Pakistan as full members.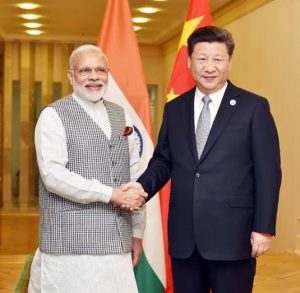 Over the past few years, the organisation's activities have expanded to include increased military cooperation, intelligence sharing, and counterterrorism. There have been a number of SCO joint military exercises. The first of these was held in 2003, with the first phase taking place in Kazakhstan and the second in China. Since then China and Russia have teamed up for large-scale war games in 2005 (Peace Mission 2005), 2007 and 2009, under the auspices of the Shanghai Cooperation Organisation. More than 4,000 soldiers participated at the joint military exercises in 2007 (known as "Peace Mission 2007") which took place in Chelyabinsk Russia near the Ural Mountains, as was agreed upon in April 2006 at a meeting of SCO Defence Ministers.
The SCO has served as a platform for larger military announcements by members. During the 2007 war games in Russia, with leaders of SCO member states in attendance including Chinese President Hu Jintao, Russia's President Vladimir Putin used the occasion to take advantage of a captive audience: Russian strategic bombers, he said, would resume regular long-range patrols for the first time since the Cold War. "Starting today, such tours of duty will be conducted regularly and on the strategic scale", Putin said. "Our pilots have been grounded for too long. They are happy to start a new life".
India and Pakistan signed the memorandum of obligations on 24 June 2016 at Tashkent, thereby starting the formal process of joining the SCO as a full member, the process will take some month's, by which they are expected to become full members by the next meeting at Astana in 2017.