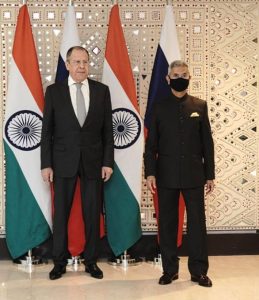 New Delhi. 06 December 2021. The Indian External Affairs Minister Dr. S. Jaishankar met his Russian counterpart Sergey Lavrov at the Indo-Russian 2+2 Dialogue at New Delhi today. He warmly welcomed and stated, "First of all let me extend a very warm welcome to you and your delegation. And it is really a great pleasure, this, I think is our fourth meeting this year.
And the fact that we do keep in touch and we meet regularly itself is symbolic of the special and privileged strategic partnership that we have established between our countries.
We had last met in Nur-Sultan on the the sidelines of the CICA Ministerial Conference. And I think, today we have an opportunity not only to discuss our bilateral ties and the global situation but also we will be participating in the first 2+2 meeting and of course later in the evening, we will be joining our leaders for the Annual Summit. For us the Annual Summit of course is a very unique event.
Prime Minister Modi and President Putin share a relationship of great trust and confidence. Annual Summit is taking place after a gap of two years because of the Covid. So we are looking forward to some very significant outcomes from the Summit.
Our partnership is indeed very special, it is very unique. And we are very conscious that in a world of rapid geo-political changes it has in fact been remarkably steady and strong. And I would also like to take the opportunity to underline that we are very satisfied with our bilateral relations and state of our cooperation.
Despite the challenges of the Covid-19 pandemic, our Prime Minister Modi and President Putin have held 2 conversations this year, they have taken part in the Virtual Summits of the BRICS and the SCO. And we have had also some exchanges of physical visits. The Secretary of your Security Council was here, our Minister of Petroleum and Natural Gas had visited Russia, the Minister of Steel had been there. And these have all been very very productive. So I welcome you once again and I am very very confident that our discussions today would be very fruitful, very productive and that we will be contributing to the outcomes in the Summit.
Thank you and I would invite Minister Lavrov to make his opening remarks."