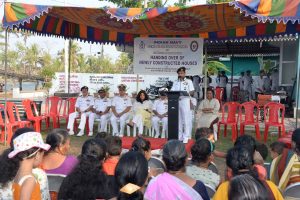 Kochi. 29 March 2019. As part of the rehabilitation activities being undertaken by the Southern Naval Command after the devastating floods of August 2018, Vice Admiral Anil Kumar Chawla, Flag Officer Commanding-in-Chief (C-in-C), Southern Naval Command, handed over the keys of newly constructed houses to three families of Cheriya kadmakkudi on 28 Mar 19.
The houses that were sponsored by the Indian Navy have been constructed at a total cost of Rs. 28 lakhs. These new houses were built as per specific suggestions and requirements of each house owner. Each house has bedrooms, drawing room and kitchen with modern amenities such as vitrified tiles in all the rooms and electrical fittings etc. The project was being steered by INS Venduruthy and has been completed in precisely five and a half months.
In addition, the Navy is installing solar power equipment in all the 55 houses of Cheriya Kadmakkudi, of which 30 have been completed, including the three newly constructed houses. Cheriya Kadamakudi, will therefore be a fully Green Village in the next few weeks.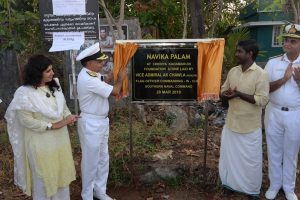 The residents of the village were in for a big surprise, when the C-in-C announced construction of a steel Arch Bridge connecting Cheriya Kadamakudi with Pizhala Island and laid the foundation stone for the same. The residents have been requesting for a new bridge since the floods receded, as the existing concrete walkway bridge has been in a dilapidated condition for long, and it was recently declared unsafe even for pedestrian traffic by the PWD. The new bridge will be constructed adjacent to the existing bridge and will be 50 metres long and 3.5 metres wide. Vehicles up to 4 tons will be able to ply on this bridge, thus providing the much-needed connectivity to the villagers.
The Rehabilitation Package was earlier announced by Admiral Sunil Lanba, PVSM, AVSM, ADC, Chief of the Naval Staff during his visit to Muttinakam in Aug 2018, and has been funded by the Indian Navy, which includes contributions from service personnel of Southern Naval Command.