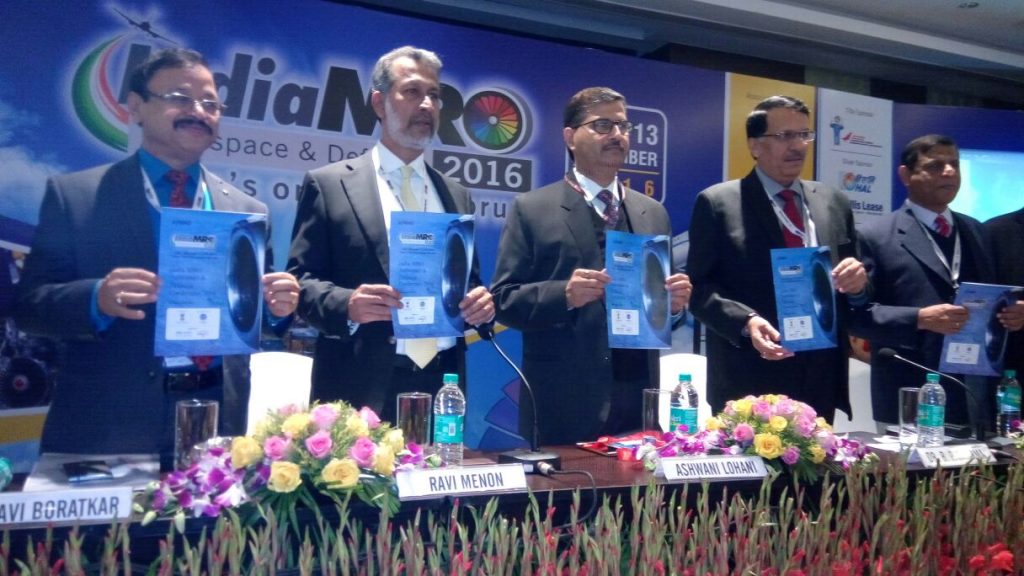 · The fleet size of Indian carriers is expected to grow to 1,740 aircraft in the next 20 years
· The fleet size of scheduled and non-scheduled Indian operators likely to double by 2020 along with the aging of the current fleet
New Delhi. 12 December 2016. KPMG in India today unveiled its background paper on MRO sector titled 'India MRO Aerospace & Defence 2016' at India MRO Aerospace and Defence 2016 – India's only MRO forum conference taking place in New Delhi. The paper was formally released by Mr. Ashwani Lohani, Chairman and Managing Director, Air India. Also, present were Mr. Stephane Lauret, Chief Executive Officer, Saffran India, Dr. B.P. Sharma, Chairman and Managing Director, Pawan Hans Ltd., Mr. H.R. Jagannath, Chief Executive Officer, Air India Engineering Services Ltd. , Mr. Ravi Menon, MRO Association of India & Executive Director, Air Works India and Mr. Pulak Sen, Founder Secretary General, MRO Association of India. The paper highlights the opportunities in the Indian MRO industry, the impact of the National Civil Aviation Policy (NCAP 2016), the proposed Goods and Services Tax (GST), the Regional Connectivity Scheme (RCS), and addressing challenges related to service quality, leasing, financing, certification and skill development.
The paper also highlights that with oil prices operating at around the USD50 per barrel mark, airlines have shifted their focus on the next big cost item i.e. aircraft MRO, which accounts for 12-15 per cent of their operating expenses. According to industry sources, merely 10 per cent of the MRO work for domestic scheduled carriers is carried out in India. Approximately 7 per cent of airline revenues is being transacted for maintenance in foreign currency. Indian private carriers are heavily reliant on foreign MRO service providers for engine management contracts, component contracts and heavy base checks.
Amber Dubey, Partner and Head, Aerospace and Defence, KPMG in India said, "The National Civil Aviation Policy (NCAP 2016) and the opening up of the defence MRO opportunities have provided the much-needed policy support for the Indian MRO sector. Under the Regional Connectivity Scheme (RCS), provision of low cost, high quality MRO services to small fleet operators is critical. Structural reforms, growing demand for air travel, expanding aircraft fleet and diffusion of air transport services into the hinterlands of India provide the ideal platform for the Indian MRO industry to transform from being mere line or base maintenance providers to value providers."
Pulak Sen, Founder Secretary General of MRO Association of India, said, "Indian carriers have been sending their aircraft overseas for MRO when the country possesses reasonably good capabilities. Shortcomings if any can be plugged through a win-win collaboration between airlines and MRO providers. India has the potential of evolving into a major MRO Hub within a short span, fuelled by the growing fleet, availability of engineering talent and the forward looking NCAP 2016. The growth of Indian MRO industry will not only save foreign exchange for the nation, but also create employment and help in skill-building."
The Ministry of Defence (MoD) too is actively engaging with the MRO industry. Aerospace and defence is a focus industry under the 'Make in India' initiative and MRO is a key part of it. In case of defence MRO, the training, certification and handholding is done by the Indian Air Force (IAF), which is an added advantage over civilian aircrafts. This opens a significantly large and sustainable opportunity.