No major announcement for defence in budget 2019-20
By Atul Kumar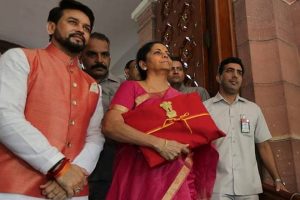 New Delhi. 05 July 2019. Post-election, the first Union budget of new Modi 2.O government was presented in Parliament by India's first full-time woman Finance Minister Nirmala Sitharamana in a traditional ledger account type red envelope for the first time. But no major announcement on additional defence allocations during her speech contrary to widespread expectations of fresh funds for the upcoming defence modernization program.
Indian tri-services are facing a huge fund crisis, specially the Indian Air Force and Indian Navy and they do not have enough money to buy weapons for which they have already started the procurement process, which is further delaying long pending modernization plans of defence forces. The only announcement related to defence in FM's speech, is the imports of defence equipment which are not being manufactured in India yet, are being exempted from basic customs duty.
N Sitharaman, in her budget speech, stated, " Defence has an immediate requirement of modernization and upgradation, this is a national priority, for this purpose, imports of defence equipment that are not being manufactured in India, are being exempted from basic customs duty."
In February this year, before election Piyush Goyal had presented the interim budget for 2019-20, the total financial outlay is INR 27,84,200 cr, out of this INR 3,18,931.22 cr allocated for MOD ( excluding defence pensions) and for defence pension the amount was INR 1,12,079.57 cr, thus total defence expenditure stood at INR 4,31,010.79, account 15.48% of total central government expenditure for 2019-20, reported by PIB. As no new funds are allocated for defence forces, now they have to manage all their activities and procurement in this tight budget.
The defence budget incorporates all spending of the ministry of defence, Tri-services and ICG, DRDO, DPSUs ( four shipyards- HSL, GSL, GRSE, and MDL & five State-owned defence entities – HAL, BEL, BDL, BEML, and MIDHANI ), 41 ordnance factories, and capital allocations to these organizations.
India's most of the defence expenditure goes for paying for the upkeep of the forces which costs much more than developing weapons and procuring them even from other countries. General Bipin Rawat's plan to restructure the army by reducing troops about 1,00,000-1,50,000, so that the Army can cut the cost of its manpower and save money for building a more leaner and meaner ground force for two-front war scenario, is also moving forward with a slow pace. But the Army still has good funds, for now, compared to Indian Air Force and the Indian Navy.
Apart from high manpower cost, Indian defence forces also, spend a huge amount of their expenditure on the maintenance of outdated and old-fashioned defence equipment ( mostly Soviet-era weapons and equipment ) which are still in service with all three armed forces since the 1960s. Furthermore new security challenges have been emerging on both fronts , making it essential to equip defence forces with more new-generation and modern weapon systems.
 Both the IAF and  IN have a long list of their modernization program, the IAF has already started the process to induct 114 fighter jets to strengthen its squadrons  which are depleting quickly, the deal also called MMRCA 2.0, worths between  $15 to $20 Billion, believed to be the world's  largest defence deal and consider very crucial for IAF as most expensive defence deal in IAF history, besides the fighter jets deal IAF also looking to acquire MALE Unmanned Aerial Vehicles for ISR and combat roles ( possibly American MQ-9 reaper sometimes called Predator B ). Moreover, The deal for 62 Airbus C-295 transport Aircraft ( 56 for IAF and 6 for Indian Coast guard ) which will replace IAF's old Avro fleet and manufacture in India by Tata after taking technical assistance from Airbus, also has not been finalized yet.
Apart from foreign orders, 83 upgraded Tejas LCA MK 1A and the first batch of 10 LCH ( total 15 on order, 5 for Indian Army ) still in the pipeline, all these IAF procurements will be affected due to an insufficient budget until governments don't sanction fresh funds to Air Force.
Indian Navy also is in dire need of new allocations as a number of major defence deals are in the initial stage and yet to take-off. The procurement of 24 multi-role naval helicopters from US ( MH-60R Seahawk 'Romeo' ), the project to build 111 naval utility helicopters under 'buy and make' category through 'make in India', and the project 75I – to build six next-generation stealth conventional submarines with AIP ( Air-Independent Propulsion ) through technology transfer from a foreign OEM and the procurement of 57 multi-role carrier-borne fighter jets – these are the most ambitious major project of the Indian Navy which can be put on hold because of insufficient allocations.
Indian Defence forces need a significant hike in their fund allotment to boost their modernization as well as defence preparedness to counter challenges from both fronts. The government also promised additional allocations to defence forces if required, in the interim budget, but no new announcement for defence yet, which again put Indian military modernization in doubt.