4TH Asean Defence Ministers' Meeting Plus (ADMM Plus) on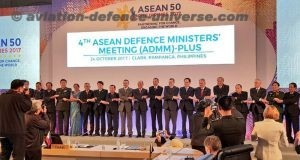 Manila. 24 October 2017. Establishing this inclusive dialogue mechanism on defence and security issues under the aegis of ADMM Plus between ASEAN and its dialogue partners has laid down a strong foundation of trust and confidence felt Indian Defence Minister Nirmala Sitharaman.
"In a short span of time, the ADMM-Plus has emerged as a credible and effective platform which has forged practical co-operation among the armed forces of member countries in key areas. In doing so, we have been guided by the principles of consensus, transparency and mutual respect for each other's priorities and sensitivities. These principles should continue to be the basis for our future endeavours," she said  while taking on the co-chairmanship of the 3rd cycle of Experts' Working Group-Military Medicine (EWG-MM) along with Myanmar.
Making India's stand on North Korea clear she said that the nuclear and missile tests conducted by DPRK, in violation of its international commitments, have triggered serious concern. India has deplored these tests. "We remain concerned about the proliferation of nuclear and missile technologies which has adversely impacted India's national security and that of the entire region. It is important that DPRKs' proliferation linkages are investigated and those who have supported its nuclear and missile programme are held accountable," she stressed.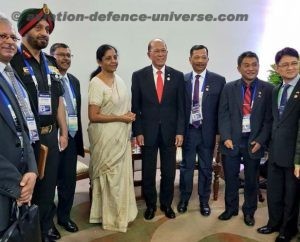 "Terrorism and radicalization pose one of the most immediate and serious security challenges to our societies. I wish to commend our host the Philippines for resolutely addressing the serious threat posed by terrorists in the southern part of the country and reiterate India's zero tolerance for terrorism anywhere and under any circumstances. There are no good terrorists," she stated.
The transnational activism of terrorist groups, the spectre of returning foreign fighters and the conduct of irresponsible states that provide safe havens, funding and even encouragement to terrorist groups all need to be addressed together and comprehensively. Terrorism anywhere is a threat everywhere, said the Minister.
"India supports freedom of navigation, overflight and commerce throughout the region. Nations should resolve maritime disputes peacefully and in accordance with international law. We support a rules based order for oceans and sea that is critical for the continued growth and development of the Indo-Pacific region," she stated.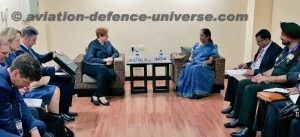 Sitharaman informed that India has emerged as first respondent in HADR situations in the region on numerous occasions. India has also placed its capabilities at the disposal of our partners, and we continue to build regional capacities to deal with natural and humanitarian disasters.
"We have had detailed and comprehensive discussions on "Regional security Architecture" under the umbrella of East Asia Summit workshops.  A number of concepts and ideas have been proposed by the member countries.  India has also actively taken part in these workshops and put forward its Proposal of – A Dialogue-Centered Asia-Pacific Security Architecture-," the Minister added.
She welcomed annual meetings of the ADMM Plus instead of biennial meetings and reiterated that this would lead to added opportunities to develop co-operative mechanisms capable of delivering tangible outcomes.
This is her first foreign visit since taking over as Defence Minister of India last month.