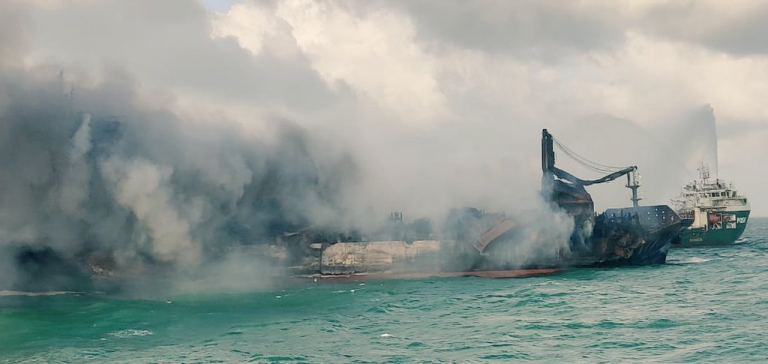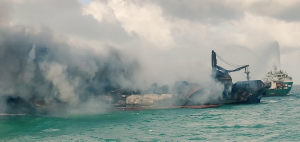 Sri Lankan Ship Explodes, Indian and Sri Lankan Forces Jointly Battle the Flames

Pune, India. 27 May 2021. Indian Coast Guard Ships Vaibhav and Vajra continue efforts to douse the intense fire onboard container vessel MV X-Press Pearl off Colombo. ICG Dornier aircraft has undertaken air reconnaissance of the area for assessment and support. No oil spill has been reported.
ICG ship Samudra Prahari, a specialised Pollution Response (PR) vessel has also been despatched in PR configuration to augment the firefighting efforts and respond to oil spill, if occurred. ICG deployed its assets in response to request of Sri Lankan authorities and Govt of India directives thereon.
The distressed vessel MV X-Press Pearl was carrying 1486 containers with nitric acid and other hazardous IMDG code chemicals. The extreme fire, damage to containers and prevailing inclement weather has caused the vessel to tilt to one side resulting in falling of containers overboard. Concerted joint efforts are in progress by two ICG Ships and four tugs of Sri Lankan authorities to douse the fire.
ICG ship Vajra had entered Colombo port on 26 May 21 evening and handed over 4500 litres of AFFF compound and 450 kg Dry Chemical Powder to Sri Lanka authorities before rejoining the firefighting operations early morning today. In addition, ICG formations at Kochi, Chennai and Tuticorin are standby for immediate assistance towards Pollution Response. Continuous coordination is being maintained with Sri Lankan Coast Guard and other Sri Lankan authorities for augmenting the overall response operations towards containing the fire onboard MV X-Press Pearl.
The MVX Pearl Press ship which caught fire while at anchorage off Colombo last Thursday, suffered an explosion yesterday, necessitating the swift evacuation of the crew. The ship was carrying around 25 tons of acid among the 1486 containers aboard.
Tim Hartnoll, the executive chairman of X-Press Feeders, said that poor packaging was responsible for the acid leak, which the crew had detected while in the Arabian Sea thousands of kilometres away from Sri Lanka. On detecting the leak, the ship's captain then contacted two ports – Hazira on the west coast of India and Hamad in Qatar – requesting to offload the containers in question. The requests were denied and the ship, which was delivered from a yard in China this February, made its way to Sri Lanka.
Joint operations between the Indian and Sri Lankan military forces are now fighting to minimise the damage. The High Commission of India in Sri Lanka tweets, "Close ties between #India and #SriLanka in the maritime sphere on display as the combined #MVXPressPearl operation continues. The flames have not tired out the fighters on #ICGVajra, #ICGVaibhav , #Dornier and other assets deployed by #lka who are valiantly battling it out."
ICGS Vajra has provided 4500 litres of AFFF solution, 450 kg Dry Chemical Powder, and other materials to the joint effort.
Sri Lankan President Gotabaya Rajapaksa expresses his appreciation, "Instructions to take maximum measures were conveyed to safeguard our coast from the debris & other impacts of recent fire in MV X-Press Pearl vessel. My appreciation to @srilanka_navy, @airforcelk , @IndiainSL, CoastGuard, NARA, MEPA, DFAR,@ashadevos & others for the assistance."
The Indian Coast Guard informed that the fire has reduced considerably due to untiring efforts by Navies & Coast Guards of India and Sri Lanka.