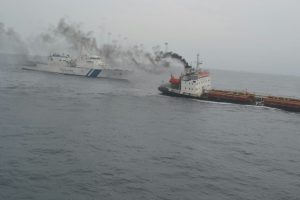 New Delhi. 09 June 2016. Before south west monsoon knocks at the doors of Mormugao, a distress situation was reported by motor tanker infinity– 1 about 20 n miles from Goa in the evening hours of 08 jun 16. Indian coast guard salvaged the vessel, its cargo and rescued 14 crew by dispatching ships from Goa.
Indian coast guard provided salvage assistance to Panama flag, MT Infinity- 1 carrying 1794 metric tons of asphalt. The vessel was anchored 20 miles off Aguada, Goa due to high rate of flooding. On receipt of the information from maritime rescue coordination centre, Mumbai through an e-mail at 1807 hrs on 08 Jun 16 from the ships agent, Indian coast guard sprung into immediate action and dispatched ships from Goa to bring the situation under control.
Mt infinity-1 is an oil/asphalt carrier and was on coastal passage from Kandla, Gujarat to Karwar, Karnataka with 14 member Indian crew. She had developed a crack near the cofferdam two meters below the water line in the fore part of the ship due to which water ingressed at a very high rate. The flooding would have caused the ship to sink, and the coast guard was informed that the crew of the tanker are not sufficiently equipped to cope up with the volume of water entering as a result of which the vessel was listed to starboard (righted side).
Coast guard ships Amal and Shoor equipped with adequate damage control equipment and specialised trained staff immediately arrived on the scene braving the rough sea conditions. 02 other coast guard ships and a helicopter were also kept standby at immediate notice. On arrival five in number submersible and diesel driven pumps, other damage control equipment and specialists were transferred to the distress ship to carry out de-flooding of water that had ingressed at the rate of about 50 tons per hour.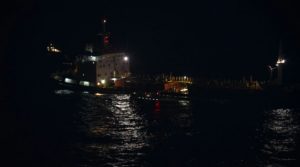 Within six hours of continuous de-flooding operation in the dark hours, flooding was brought under control and vessel achieved stabilised condition. Despite heavy flooding and testing weather/sea conditions the coast guard personnel were able to capitalise on their equipment and available resources to effectively contain the damage. The prompt response by the coast guard not only saved the vessel, its crew and cargo but also averted a potentially dangerous situation where in the  cargo released into the sea would have caused unfathomable environmental damage, including damage to the pristine beaches of Goa.
Mt infinity 1 has weighed anchor in the early morning hours of 09 jun 16 and is being escorted to karwar by cg ships with a team of coast guard personnel on board the tanker continuously engaged in de-flooding and damage control for ensuring safe passage.