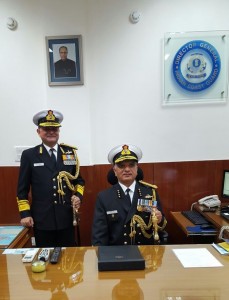 New Delhi. 27 February, 2016. DG Rajendra Singh PTM, TM took over the charge of the Indian Coast Guard (ICG) as the 22nd Director General of the service. He is the first regular Coast Guard officer to have been elevated to the rank of the Director General. He succeeds Vice Admiral HCS Bisht, AVSM, who is proceeding on transfer to Vishakhapatnam as the Commander-in- Chief of the Eastern Naval Command, after a distinguished tenure of 13 months as (DGICG) Director General Indian Coast Guard.
 Hailing from Uttarakhand, the flag officer is an alumni of the Garhwal University, Dehradun. He joined the ICG on 29 Dec 1980 as an Assistant Commandant in the General Duty cadre. In his distinguished career spanning over three and half decades, the officer has had an impeccable track record and also held various key operational and staff appointments. He has a rare distinction to his credit for successfully commanding of all classes of ICG ships. As Inspector General he has commanded the Eastern and Western region which implied the command of more than 2/3rd of the operational fleet and support units of the service.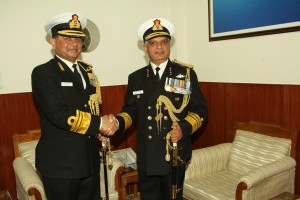 The officer is a Maritime Search And Rescue specialist and has undergone  training with the United States Coast Guard in the US. He has also successfully completed the reputed National Security Course from the Lal Bahadur Shastri Academy, Mussoorie. He is also a recipient of the coveted Tatrakshak Medal for gallantry in 1990 and the President Tatrakshak Medal for Distinguished service in 2007.